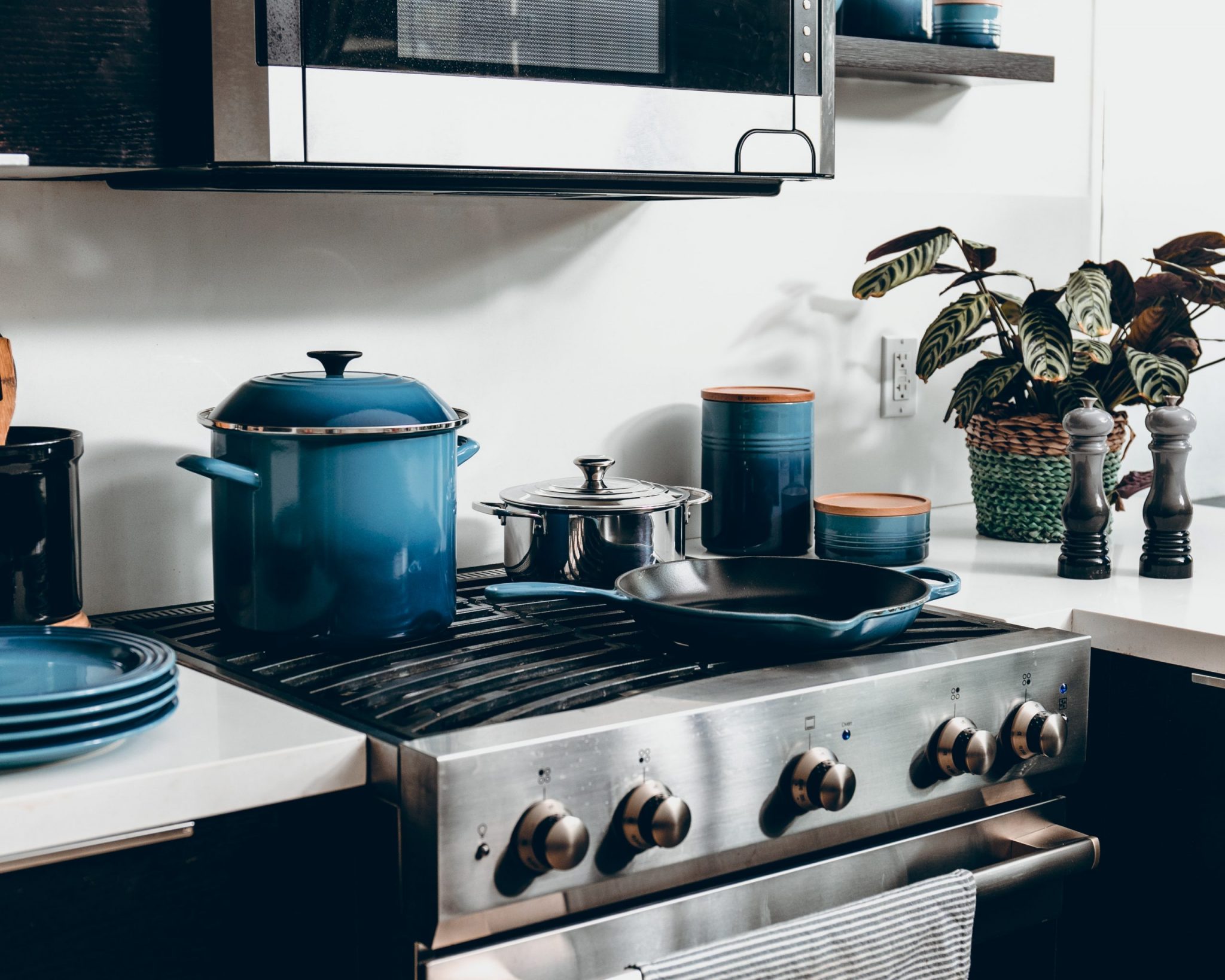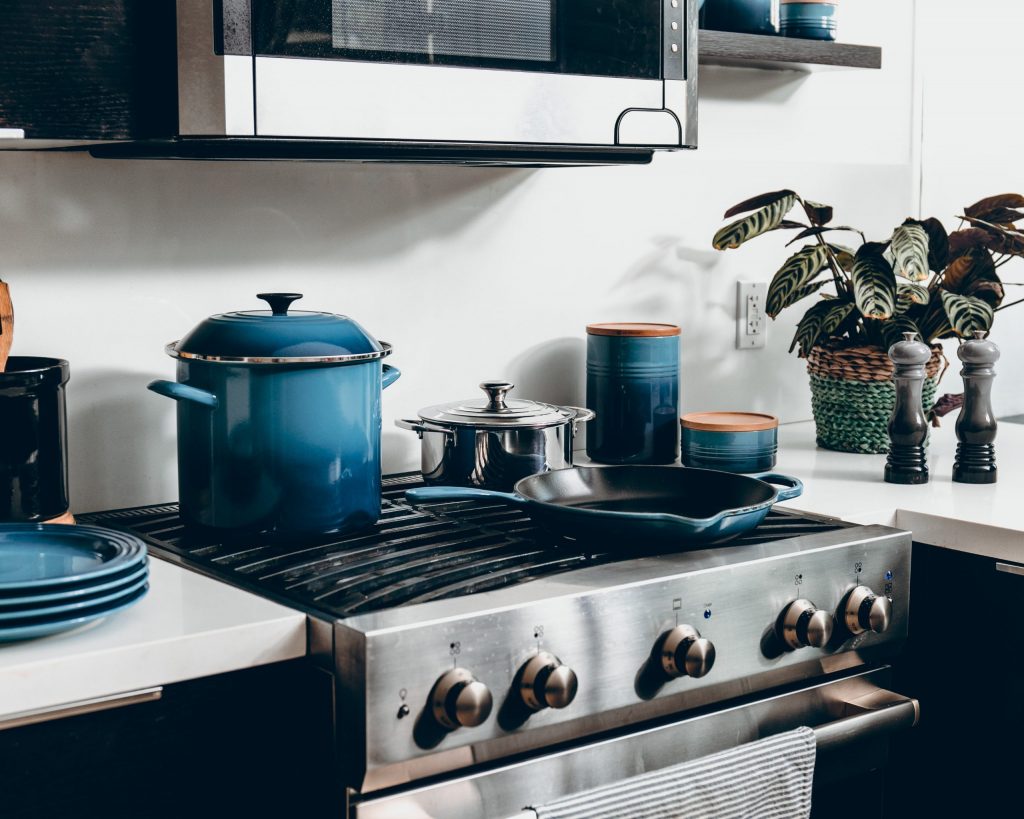 If you ask someone the difference between a pot and saucepan, they might tell you these are all the same, but that's not the case in reality!
Although they might have some similar features, that doesn't make these two the same. The reason is if you go through the differences in-depth, then you'll see that there are many significant differences between these two.
It can be a common problem among many people (unless you are a professional chef), so no need to worry about distinguishing the differences since this saucepan vs. pan blog post will tell you everything in detail.
So, keep reading till the end to know it all!
What's a Saucepan?
If you are unaware of what a saucepan is, then this section is a must-read for you. "Saucepan" is more like a combination of a pot and a frypan.
Yes, you heard it right; it's a combination of a frying pan and a pot (but it's not a pot). Let us see more in detail.
So, just as the name suggests, a saucepan is a "pan" mainly used to reduce the stickiness of the juice or sauce and cook.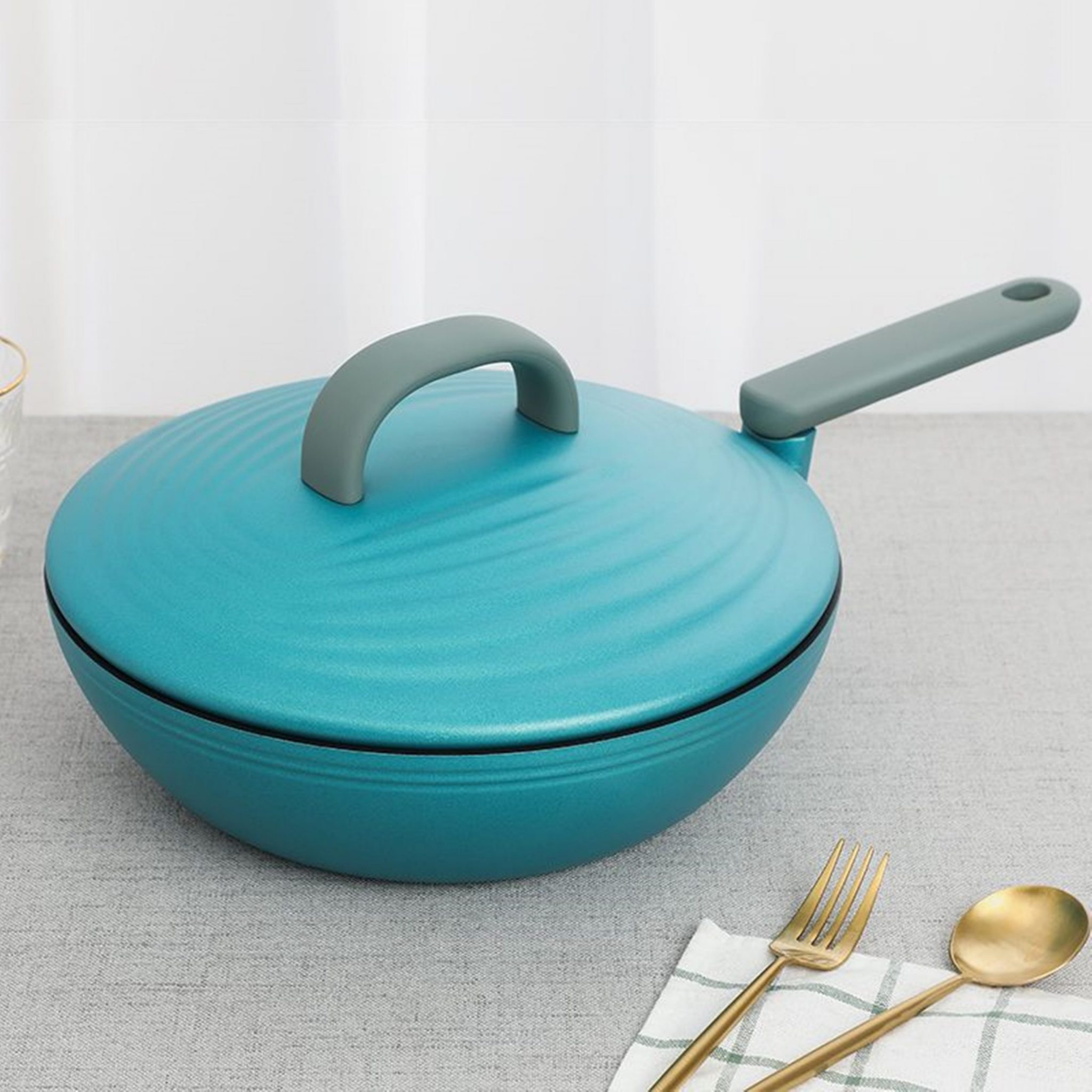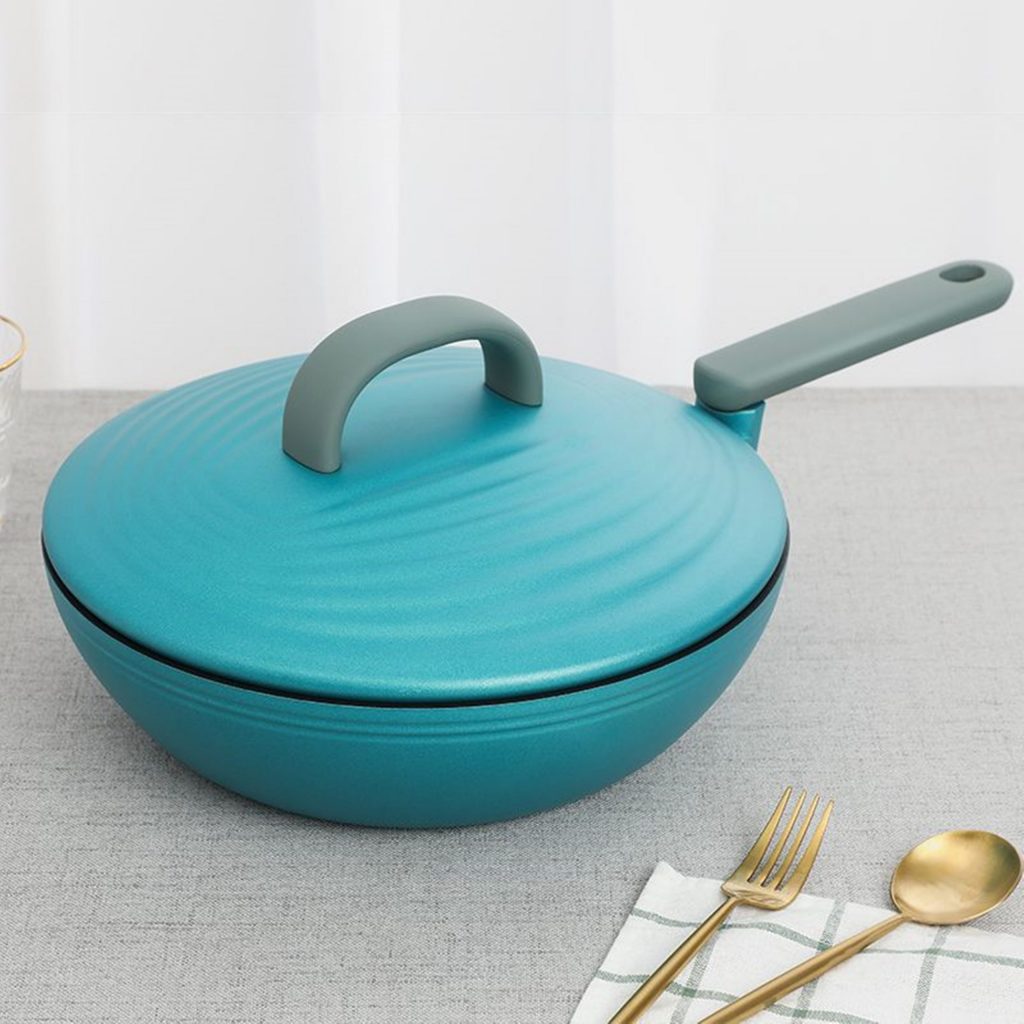 A good-quality saucepan will be more resistant to this stickiness of the food. However, one of the significant reasons many people think of these saucepans as pans is because some of these saucepans have a small surface area.
Most of the saucepans that you'll see on the market are usually made of stainless steel. However, many saucepans are made of cast iron or aluminum.
There are also different sizes of saucepans, and the sizes vary depending on what kind of saucepan you choose! For instance, an average saucepan can hold up to 1 or at least 2 quarts, and there are also pans that can easily hold from 4 quarts of liquid or more.
Saucepans make a perfect utensil for cooking because of the long helves and high sides, which help people pour the liquid easily.
Another remarkable feature of a large saucepan is that it's pretty suitable for deep-frying, making your food crunchy and juicy!
What Are Saucepans Used for?
A saucepan is mainly used for cooking foods that are saucier and liquid. So, you can say it's perfect cookware for simmering, stewing, or even for making soups.
Moreover, you can also use these pans to make sauces for pasta that can make it more tasty and juicy.
Saucepans are also very safe to use, and the high-quality pans also ensure that no matter how deep the cooking might be, there will be no chances of burns.
In short, saucepans can be one of the best cooking utensils you can get for your intense and delicious cooking.
Sauté Pan Vs. Saucepan: Are There Any Differences?
It's pretty common for anyone to confuse a saucepan with a sauté pan. That is because sauteed pans have a large base with vertical edges.
Physical Differences
Sauté pans usually have a pretty large handle for proper stability and even a strong lid. The volume of most of the sauté pans might range from 3 to 6 quarts. Moreover, the design of these pans will allow you to both heat your food dry and do cooking.
Materials
Most of the sauté pans are pretty durable and can withstand a lot of pressure. That is what makes them so popular among people.
Sauté pans come in various materials and coatings, including stainless steel, enameled cast-iron, aluminum, and non-stick.
These pans are perfect for cooking recipes. But it's crucial to remember that non-stick coatings are not at all oven-safe. A completely stainless steel sauté pan is the ideal option for delicious and mouth-watering cooking.
Cooking Convenience
Moreover, sauté pans are pretty flexible, and you can even use them for cooking your saucy and delicious curry.
With sauté pans, you can make your cooking as tasty as a professional chef since you won't have to worry about the burns and stickiness on your pan.
The Main Differences between Sauté Pan and Saucepan
Both of these pans are commonly used by people, and as they seem pretty similar, it's pretty common for people to get confused between them.
The table below will make things pretty simple for you.
| | |
| --- | --- |
| Sauté Pan | Saucepan |
| It has shorter vertical sides that come off the base. | It has longer vertical sides. |
| These are more versatile as you can cook dishes like salmon with delicious lentils, chicken thighs, onion jam, etc. | These are perfect for cooking more liquidy food or curry types like brown gravy, beurre blanc, boiled eggs, quinoa, and many more |
However, you can also use both of these pans interchangeably, especially when cooking tomatoes, marinara sauce, and stewed okra.
Saucepan vs. Pot: All the Differences that You Need to Know
As you already know that saucepans are pretty versatile, especially when you want to cook heavy meals. You can also say that saucepans are more like all-in-one kinds of pans.
So, now the question arises, what's the difference between a saucepan and a pot?
Handle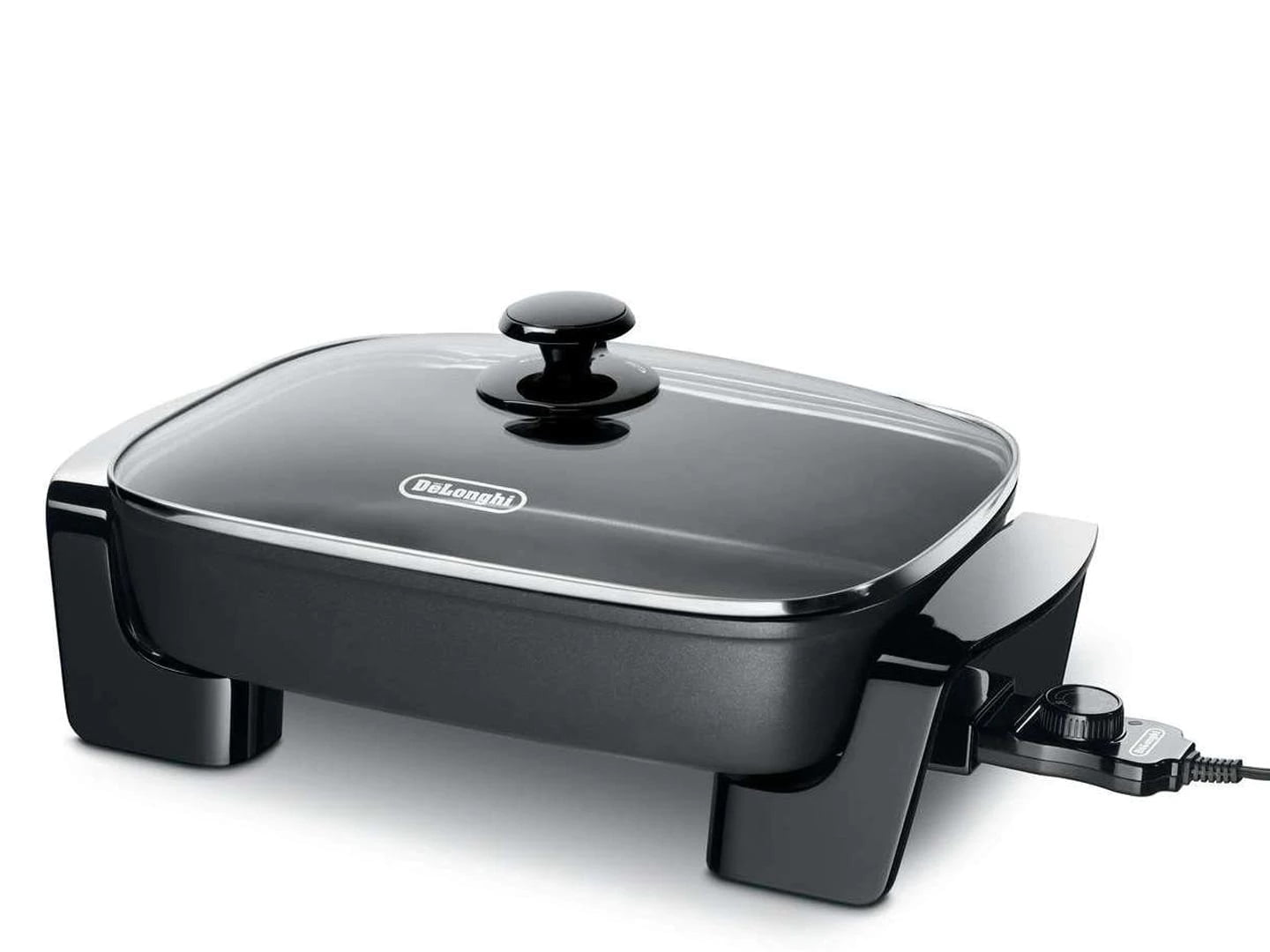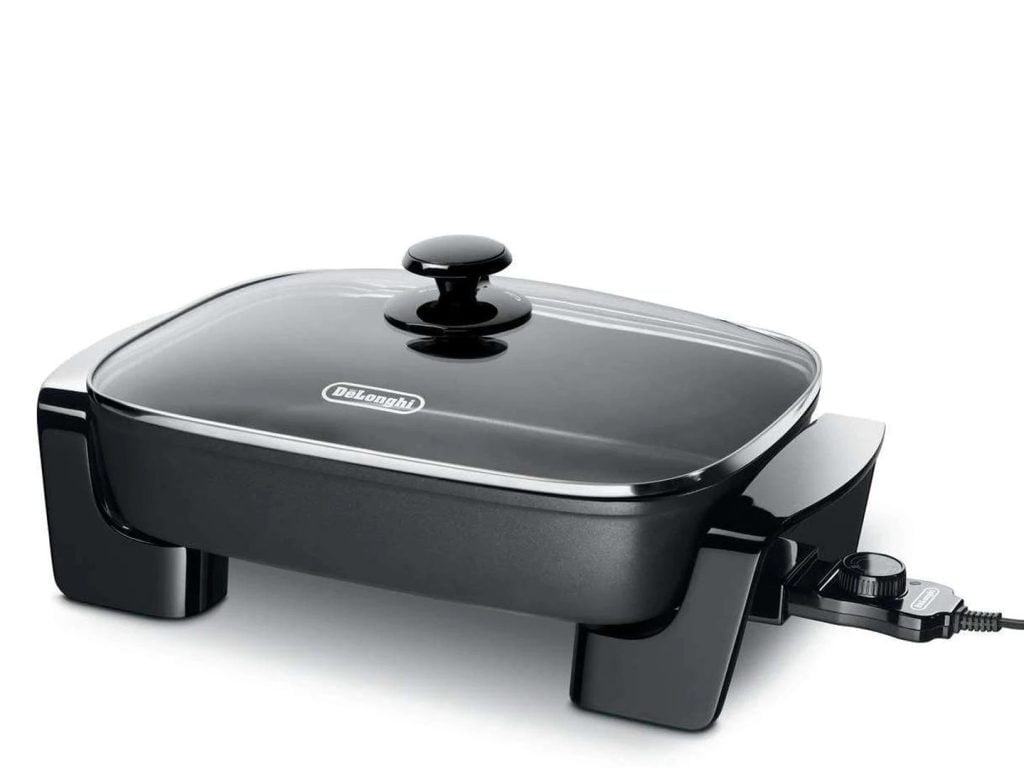 One of the significant differences is saucepans have a single long helve, while on the other hand, a pot has two looped-shaped handles.
Dimension and Shape
Moreover, pots are also comparatively larger than saucepans, and they even are deeper inside. So, it'll be pretty easy for you to prepare stews, stocks, and soups.
Although, a saucepan is also more like a pot, as it has a rounder container which is perfect for cooking any curry or liquid food.
Cooking Items
Saucepans are pretty amazing for heating any liquid. Moreover, as these are comparatively smaller, they heat pretty fast than those regular pots.
You can also use a saucepan just like a pot because you can easily prepare sauces, pasta, beverage, beans, rice, and many more.
Heat Distribution
However, you can't use a pot like a saucepan since it can't quickly or effectively distribute the heat along with the container. So, pots can be ideal for chili, stews, soups, or any slow-cooking food.
Convenience
Even the saucepans are pretty easy to handle, and they also help your hands to stay stable, especially when you are serving food from the container.
Types of Pans and Their Uses in the Kitchen
This section will have a detailed look at the types of pans and the cookware material types. So, without skipping any of the sections, keep reading to know it all.
1. Stock Pot
These are pretty large with a very flat bottom. Moreover, it's mainly used to cook liquid foods and does not need any extreme heat.
These pots allow you to sauté and add liquids when making stews, soups, and stocks. Moreover, with stockpots, you can easily submerge your delicious smooth pasta during boiling.
Stockpots come in various sizes, and it comes in handy, especially when you are going to cook for a small or even large group of people.
2. Fry Pan
A frying pan is one of the essential kitchen utensils in your kitchen. That is because it's one of the most versatile cookware of all.
With the help of a frying pan, you can easily make omelets and even deep fry juicy chicken thighs.
Moreover, these fry pans are designed with a curved and flat bottom for perfect frying. You can also easily simmer your food with oil.
Now, the quick heating of a frying pan entirely depends on the type of material these pans are made of. The non-stick frying pans shouldn't exceed low or even medium heat.
You can also get frying pans in different sizes, depending on your need.
3. Cast Iron Skillet
Iron skillets are another type of pan or skillet. These are pretty much similar to frying pans. The main difference is the type of material used to manufacture these cast iron skillets.
Moreover, these pans are pretty heavy, and you do need to have some skills to take complete control over these pans.
Before purchasing a cast iron skillet, always make sure to see whether the case iron is pre-seasoned or not. The reason for this is, if your cast iron skillet is not pre-seasoned, then your food might stick to it.
4. Sauté Pan
These pans are mainly manufactured for sauteing. Sauté pans are more like frying pans if you look at the design. However, the main difference between these two is, saute pans have shorter vertical sides, whereas, saucepans have longer vertical sides.
Since sauté pans can deep fry, these are mainly used for searing and preparing sauces like marinara.
5. Saucepan
When it comes to size, saucepans are pretty much round and tall. These pans are considered one of the most versatile cookware, which is why it's so much in demand among people.
You can make soups, sauces, and many types of beverages with the help of this pan. Moreover, you can use this with or without a lid as these saucepans can easily control the evaporation rate.
Saucepans are an ideal cooking utensil, especially if you prepare noodles, boil eggs, or even reheat leftovers.
6. Braiser Pan
These pans are well known for having a great bottom with a perfectly moisture-locking lid. Braiser pans are incredibly satisfying for anyone to cook their food.
You can also use these pans for cooking any brown foods on the stove or slow-cooking in your oven. Moreover, these braiser pans are also designed to be used as a serving dish if necessary.
7. Griddle Pan
These pans have flat, large, or ridged surfaces. With a small amount of cooking oil, you can easily cook your breakfasts, such as hash browns, pancakes, and eggs.
The shapes of this pan might vary since it can be both round and square; however, it entirely depends on how long the handle might be.
Grill pans or griddles offer ridged surfaces, and this can come in handy for grill marks.
8. Wok Pan
In Asia, the Wok is the most commonly used one. The diameter of the traditional ones is usually 14 inches, and the steel is entirely made of carbon.
Moreover, the surface of these pans can withstand a lot of heat and even stay cooler at the sides.
It's considered to be one of the best pans for deep frying and steaming.
9. Pressure Cooker
These pressure cookers provide you with a quick release choice while taking less time to cook your meal.
The lid is entirely sealed, which ensures that it doesn't make them cold when you cook your food.
Pressure cookers are one of the most convenient kitchen utensils you can have!
10. Roasting Pan
A roaster pan is a rectangular-shaped large pan with low sides, allowing heat to circulate all over the food.
Roasting pans ensure that the roasting racks evaluate the food all through the cooking surface. Moreover, it's best for cooking in dry heat at relatively high temperatures.
It's your ideal option, especially if you are looking to roast chickens and turkeys. So, if you are someone who wants to roast those juicy chicken and turkeys, then this roasting pan is essential for you.
11. Dutch Oven
This styled pan is usually used for slow and steamy food like braised meats, stems, and pot roast.
Dutch ovens are basically round-shaped and are made of cast iron. These Dutch ovens are available in different colors, and these even have short handles for better grip.
So, if you want a pan for better cooking, then this is the pan you should choose.
12. French Oven
This oven is more like a Dutch oven. The main difference that you'll find between these two is the internal enamel. Unlike the Dutch oven, it doesn't need any seasoning.
French ovens are perfect for cooking dishes like pork, beef, briskets, and roasts. These pans even have a variety of colors, making them suitable for your kitchen.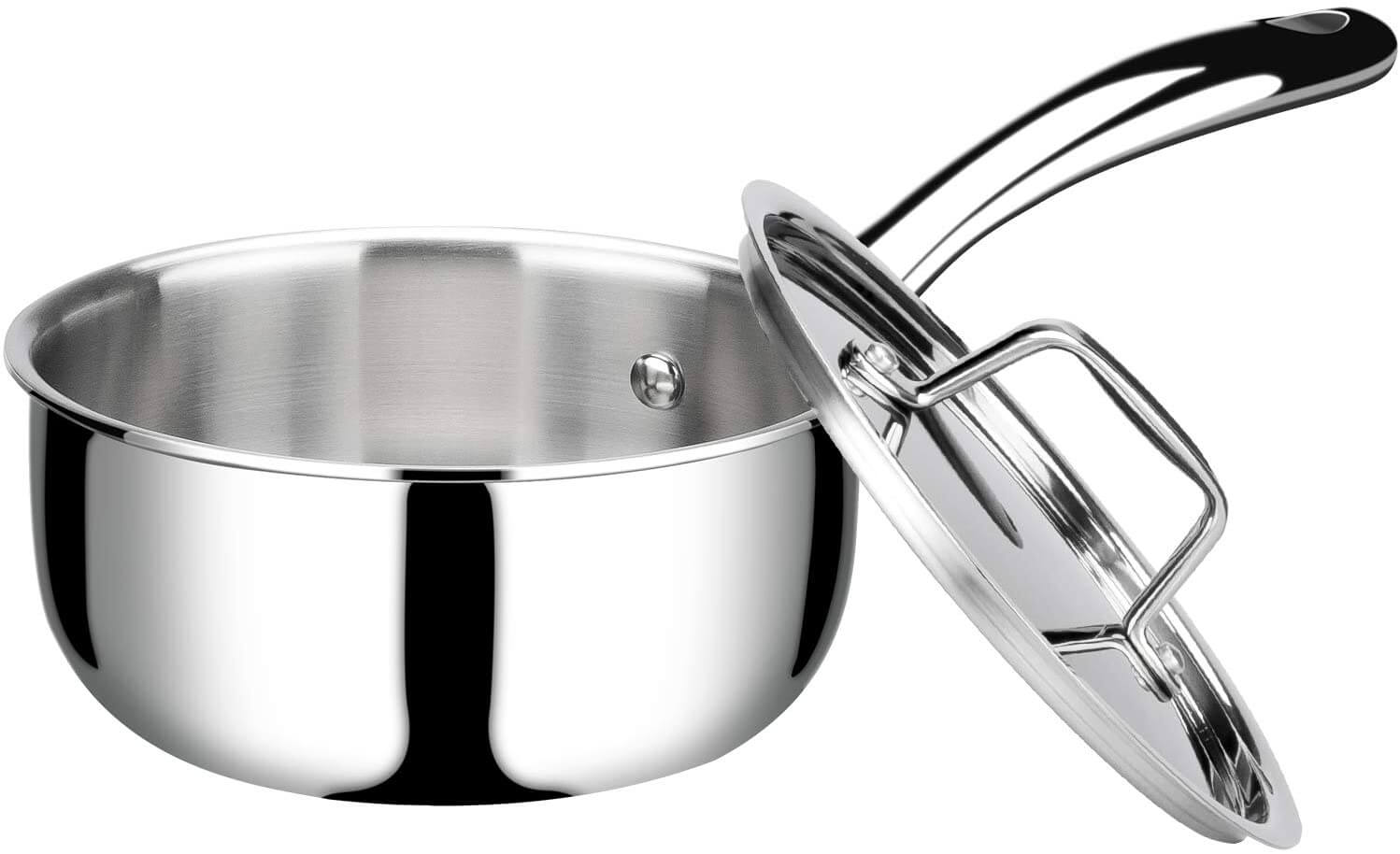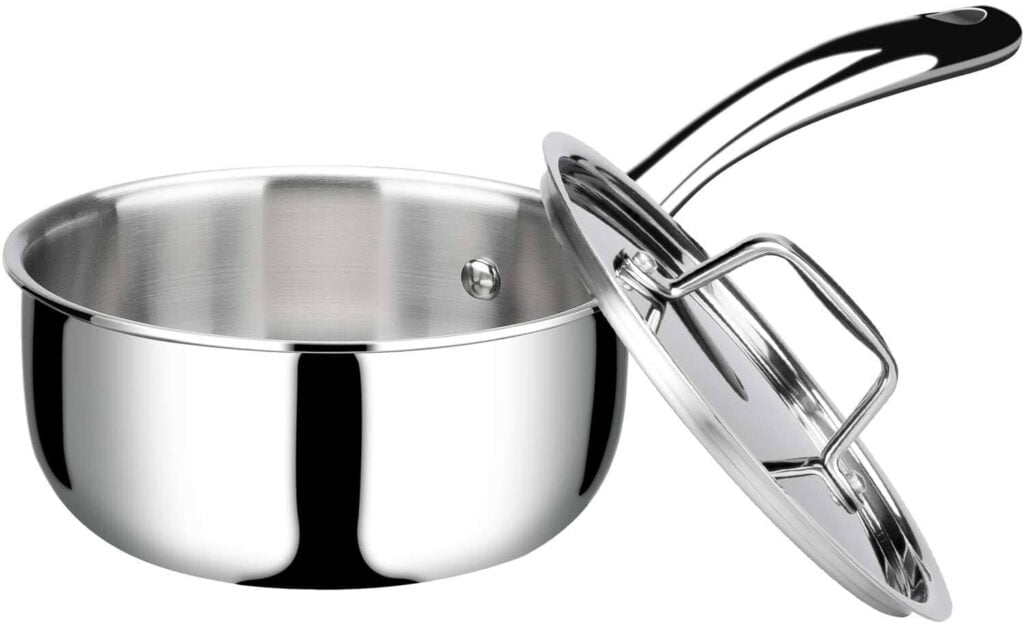 Final Words
There are many kinds of pan available on the market, so make sure that you know all the ins and outs before you go on choosing any of these pans.
However, through the help of this saucepan vs. pot article, you'll be able to choose the best kind of pans for a better cooking experience.