It is often said by elders that 'A kitchen is the heart of the house,' and we agree. From early morning coffee to late-night munchies; from cooking big holiday meals to sharing ordered takeout; from an intimate family gathering to hosting a house party- a kitchen is simply the most used space in the house for everyone to bond,
Renovating or remodeling a kitchen can be exciting and easy if you keep a few things in mind, and we are here to help you get informed and find kitchen remodeling ideas.

So, let's begin.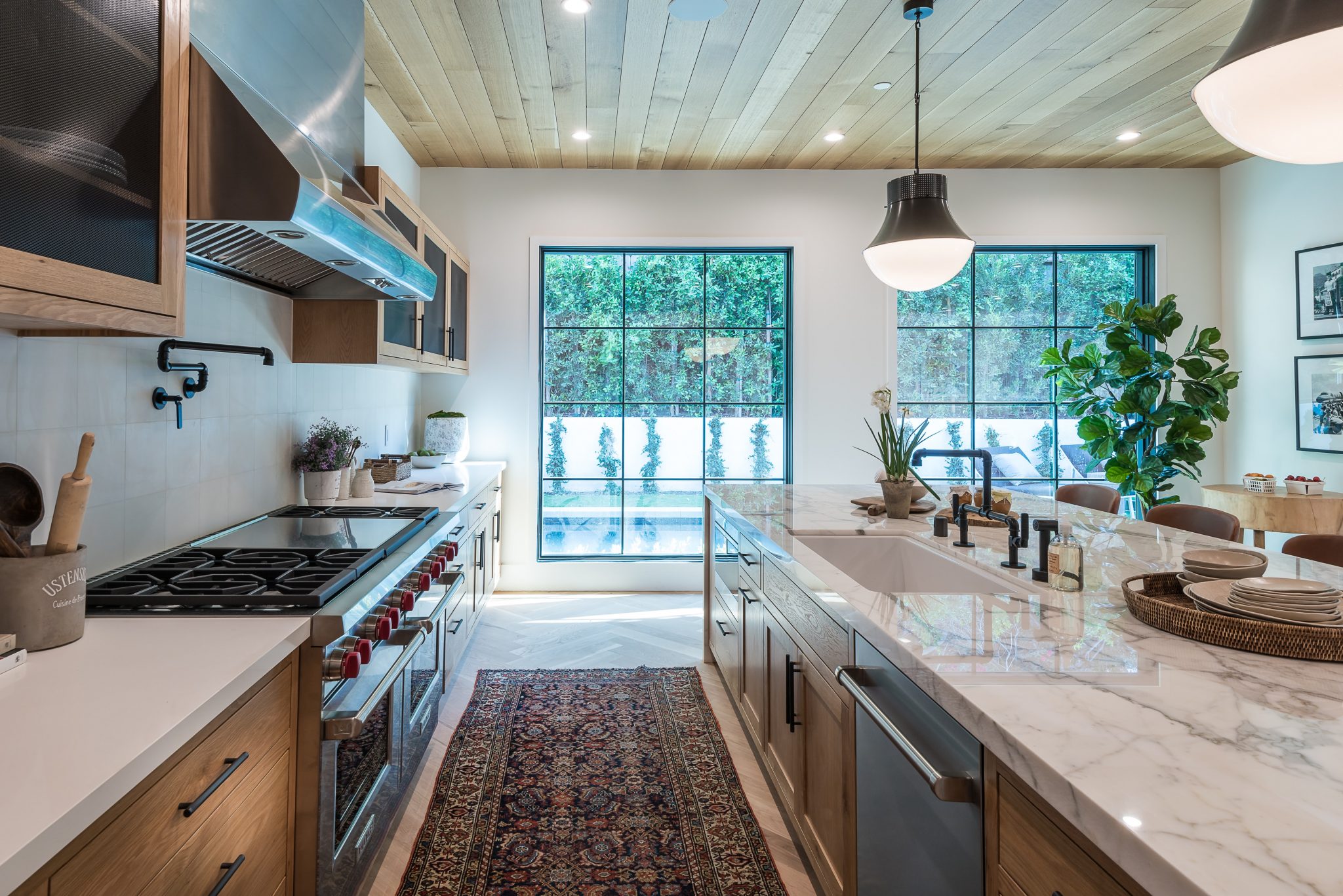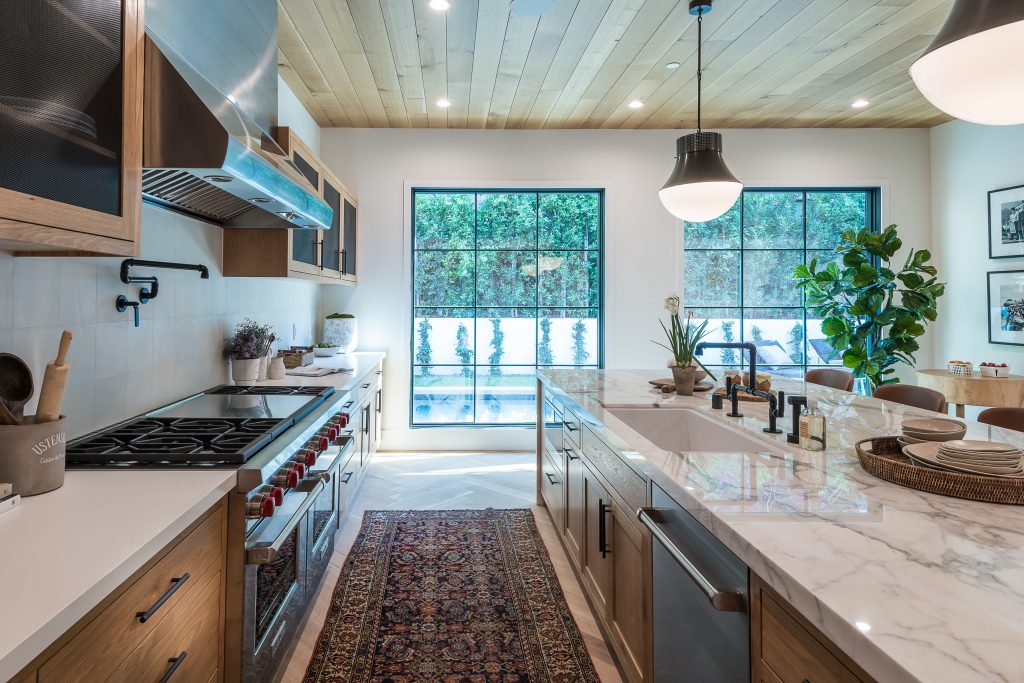 Renovation Aspects You Need to Consider
Before you start renovating your kitchen, consider these things:
Lighting and Ventilation
Correct lighting and ventilation can make your kitchen feel joyful and comfortable. Keep the windows clear, so natural light and airflow can enter the kitchen uninterrupted.
Direct lighting over the chopping station and stovetop is helpful, while under-cabinet lights add visual and functionality. Exhaust fans or Range hood keep the kitchen well-ventilated and comfortable by moving out overwhelming heat and smell.
Storage Space, Cabinets, Countertop
Decide on dividing your space into drawers, upper cabinets, floor cabinets, and pantry space. These spaces should be easily cleanable, reachable, and organizable. Clever use of space behind doors, under the countertop, and pull-out spaces are great ways to keep things hidden while maximizing space.
The countertop should be at a comfortable height for the family members to work, as well as high and wide enough to accommodate all your appliances. Also, the surface needs to be easily cleanable, durable against stains and scratches, and be able to withstand high heat.
Appliance Space, Sink space, Dishwasher
Your appliance space should be accessible, spacious, convenient, and easily cleanable. The sink and dishwasher should have a good drainage system at a comfortable height. Many are now installing a 'side sink' in their kitchen for added convenience and washing space.
Flooring and Walkways
Total remodeling of the kitchen should include renovating the floors as well. Keep durability and ease of cleaning in mind while considering options to renew your kitchen floor. Keep enough space to safely walk around and work, allowing better ventilation and lighting.
Additional
Splash of Color/Themed Color: Choose a theme/color palette to paint and match your walls and cabinets, making your kitchen appear brighter and classier. Add a splash of color by picking a vivid color point in a monotone kitchen to spruce it up.
Hardware and Faucets: Upgraded hardware and metallic faucets will help you achieve the sleek, classy look in the kitchen after the simplest, cheapest remodeling.
Gadget Station and Power Outlets: Install enough power outlets to use multiple appliances conveniently, along with a charging station nearby for handy gadgets. Don't keep any power outlet near water outlets or heat of the stove.
DIY Kitchen Remodeling Ideas
Here are the remodeling ideas that you can implement by yourself alone;
Power of Paint
A fresh, nice new coat of paint can solve a lot of imperfections and elevate the kitchen almost instantly. What color and shade you pick will majorly impact and help set the mood of the kitchen.
You can paint the walls to get rid of and hide the older stains, scratches, etc., easily. You can even renew the previous shade for a fresher, cleaner look.
Not only walls, but you can also paint your cabinets yourself. Keeping the theme/color palette, you want your kitchen to have, pick a color and paint the cabinets and storage spaces.
If your cabinet is wooden or wood-like material (vinyl, plywood, etc.), you can varnish them. You can even retouch or paint the door, door frame, windows, window frames as well!
Flooring Hacks
In the case of tiled floors, you can deep cleanse them to get rid of stains and stubborn dirt. But if you are willing to spend a little more (but definitely within a low budget), a few alternate options are vinyl tiles, click and lock flooring, etc.
These are some floor renovations you can get installed by yourself, even though it might take a little getting used to and some patience. These methods are definitely more user-friendly and beginner-appropriate- compared to installing ceramic tiles completely by yourself.
Countertop and Backsplash DIY
If you are looking to remodel the countertop and backsplash of your kitchen all by yourself, there are a few methods you can look into. While installing real tiles onto your backsplash is an option, we would agree that it isn't a very beginner-friendly one.
You can opt for peel and stick vinyl backsplash as an alternative option. These alternates are budget-friendly, waterproof, and beginner-friendly as well. Peel and stick vinyl for your countertop and island table is also a great way to remodel the kitchen by yourself within a budget.
Wall Decoration
In case you don't feel like painting your walls, there is another very simple and easy way to renew them. Just like peel and stick vinyl, you can also look for large wallpaper stickers. Moreover, they are easy to peel off when you want to change them for another brand-new look.
This is extremely budget-friendly and DIY beginner-friendly; you just have to wet the wall, peel of the back of the sticker, and stick/apply the wallpaper on the wall. Wait for it to adhere and smooth out any air bubbles. And voila!
Kitchen Renovation on a Budget
If you are on a budget restriction but still want to give your kitchen a makeover- fear not, for we have a lot of alternate and budget-friendly ideas that will surely get you a remodeled kitchen on a budget.

DIY Champion
For effective budget kitchen renovations, do as much as you can by yourself. Take idea and inspiration from the discussion of our previous section as well as surf the web. Ask for help from your friends and family, and look for an alternate idea that you can work on by yourself.
Countertop and Island Table
As countertop and Island Table occupy a rather large area in the kitchen and need more attention, they tend to take up a big portion of the budget. To get a more budget-friendly makeover, go for cost-effective alternative materials, such as quartz, granite, concrete, etc.
Also, to cut back on cost while making it look fashionable, you can create contrast by using cheaper material on the countertops while using a showstopping tabletop for your island table.
Recycle, Upcycle, and Go Green
To make your remodeling look fancy without getting much work done, a very simple and easy pocket-friendly way is recycling and incorporating house plants in your kitchen. Recycle and upcycle your previous showpieces to fit into the theme of your kitchen and adding to the decoration.
You can paint/color your old showpieces and corner pieces according to the theme or color palette of your new kitchen. A nice way to fill up wall space is to hang beautiful crockeries (plates, mugs) on the wall as showpieces. Spice up the simple lighting by putting them inside mason jars.
Adding little house plants, flowers, etc., inside the kitchen will give your kitchen a fresh, clean look within a budget. It will make you feel calm, comfortable, and at home. This is not only a pocket-friendly idea but also an environment-friendly one.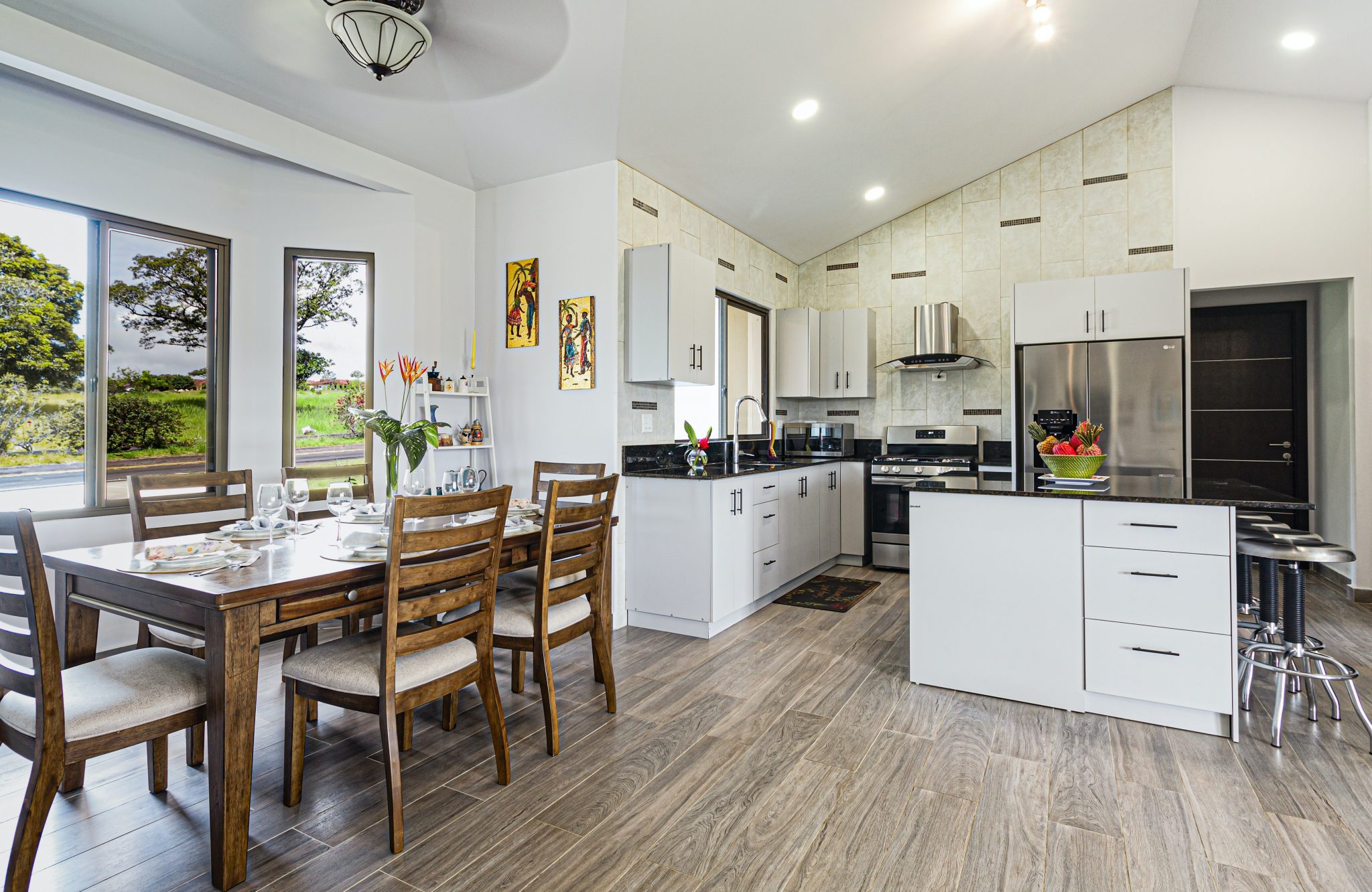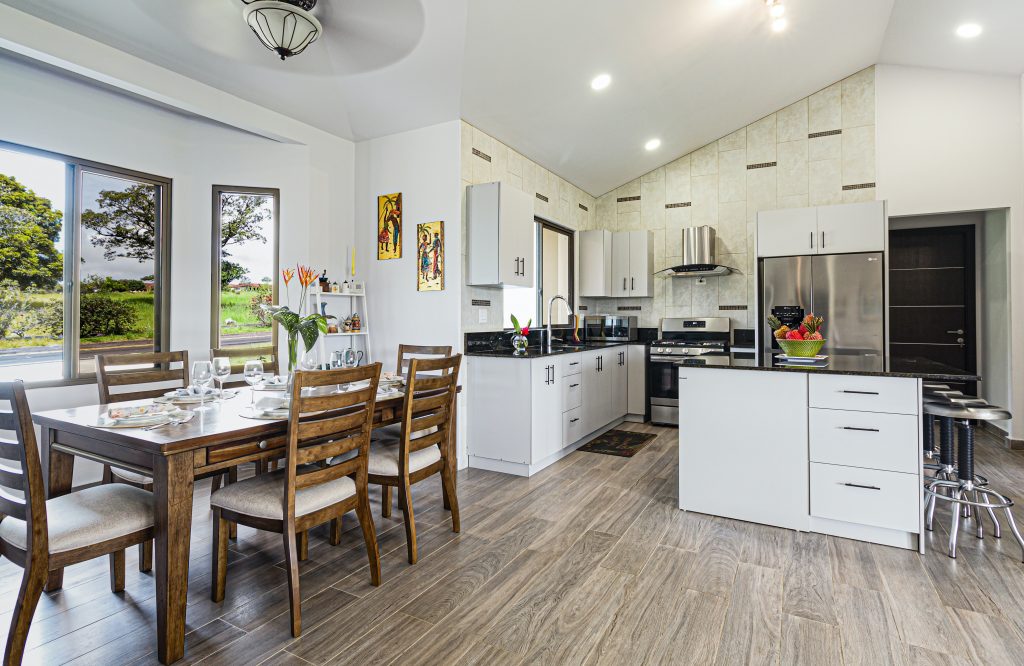 The Best Ideas to Consider While Remodeling Your Kitchen
These are our best picks for you. Check them out.
Follow a Theme
It is way easier to make your kitchen look put together and welcoming when you try to keep everything under a theme. Redecorating, renovating, and remodeling ideas can be put together more easily; creating a budget and sticking by it is more plausible.
From rustic theme to modern luxe, minimal, farmhouse, neutral earthy tone theme- sticking by a theme or mix of themes always comes out looking fresher, cleaner, and put together.
Follow a Color Palette
If following a certain theme tends to cause hassle or turns out not to be pocket-friendly, another way to make your kitchen appear newer, fresher, and put together is to following a color palette or color theme.
You can find little things to go with it, which will make your remodeled kitchen appear more enriched and enhanced.
Incorporate Different Textures and Materials
Remodeling your kitchen space on a budget can be tough, so mix and match a few different kinds of textures, materials, etc., to stay within budget as you remodel your kitchen. Installing new hardware and metallic faucets, cabin handles, etc., can help elevate the look.
Conclusion

Remodeling your kitchen on a budget can be an exciting and adventurous task. As the heart of the house, the kitchen surely needs some extra attention and love. Renovating this common space to give it a more homely, welcoming feel is thus a good idea any time!
Also, remodeling the kitchen to fit the family's needs and to match the rest of the house pays off in the long run. We, CuisineStuff team hope, this article on kitchen remodeling ideas helped you acquire some useful kitchen remodeling ideas- and can now help you renovate to elevate your cooking space within your desired/decided budget. If you have any better ideas to share with us please let us know in the comment below.