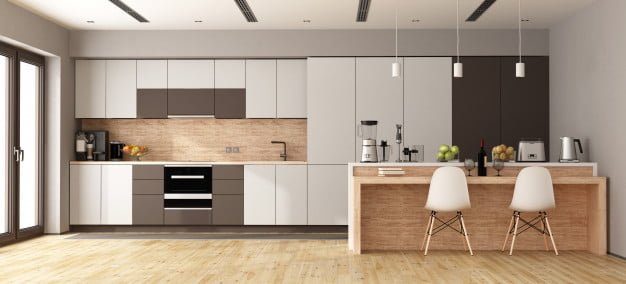 Renovating one's home is one of the most rewarding projects there can be, especially when it comes to kitchen remodeling. It is, after all, one of the most frequently used rooms in the house, and giving it a brand new look and feel always feels refreshing.
With all the options available to you, though, it might be difficult to figure out which type of flooring is best suited to your kitchen. That's why we've gathered up 7 kitchen flooring ideas to help you figure out just how to spend your time and money.
We've kept in mind the required durability of a kitchen floor (given how much it's subjected to daily), as well as comfort and aesthetics. Let's go!
How to Choose the Right Flooring?
Here is the guide on choosing the right flooring.
Cost
Of course, you need to work with your budget. Start by measuring your kitchen to figure out square footage. Take into account additional costs such as underlayment, installation, delivery, and removal/disposal of existing flooring.
Comfort and Convenience
Once again, consider your particular use of the kitchen. Do you spend hours there, meal-prepping and cooking? Then, softer, resilient flooring such as laminate and vinyl are better options.
Hardwood also reduces leg fatigue. Also, account for the ease of cleaning. Tile grouts, for example, can be difficult and time-consuming to clean. Water- and stain-resistance is also important.
Household
Consider the members of your household. You might want a fancy terra cotta tiled floor, but if your home is populated by kids, such flooring makes it easier to break dropped fragile items. And on that note, consider non-slip floors as well if you have vulnerable or elderly household members.
Aesthetics
It's important to put a lot of thought into this part because reinstalling flooring is time-consuming and expensive.
Ask yourself: do you like a rustic feel, a minimalist one, or traditional checkered tiles? How big or small is your kitchen? What does the rest of the household decor look like? Do you want the flooring to stand out or blend into the background?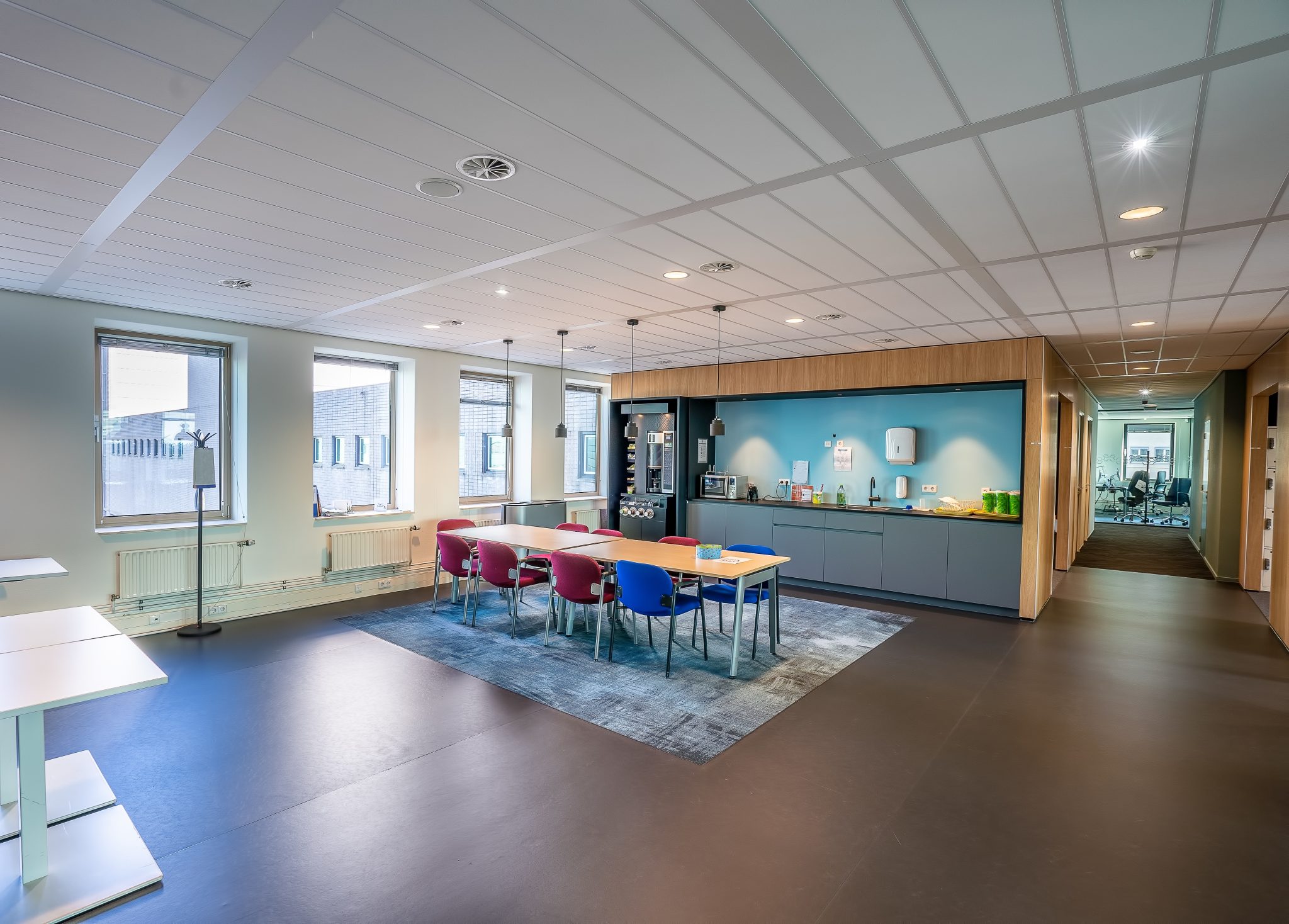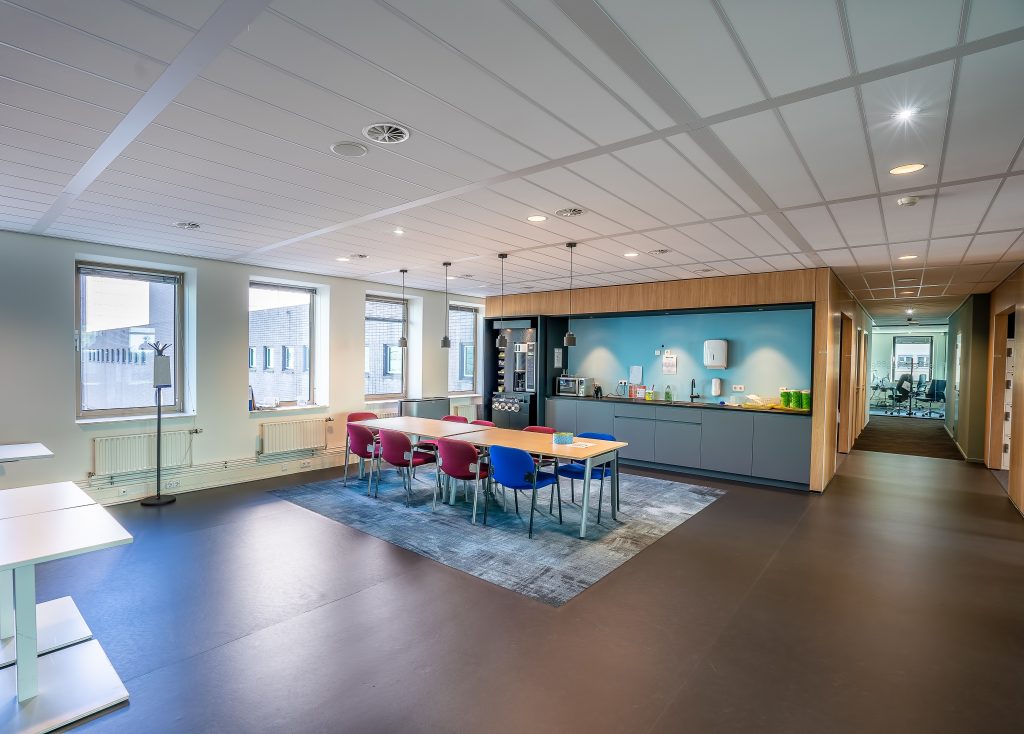 7 Flooring Materials Types
The options you have when it comes to selecting new kitchen flooring can be boiled down to the material type and its associated pros and cons. So, here's a closer look at each of the flooring materials you can choose from.
1. Hardwoods
One of the most popular choices in kitchen flooring is undoubtedly hardwood. It not only offers a classic and traditional aesthetic but is ultra-comfortable. Also, it's easy to refinish. The five hardwood species used most widely for flooring are walnut, oak, cherry, hickory, and maple.
When it comes to hardwood floors, you have the option to choose between engineered wood planks and solid wood, of which the former is more popular. This is because the engineered variety is a layer of plywood with a real wood top veneer.
Thus, it adds durability and makes the floor less susceptible to the damaging effects of humidity. An extra coat of finishing might also be required to protect the wood in high-humidity areas.
Good quality hardwood, which has been equipped with proper finishing, is also super durable and low-maintenance. That being said, spills and splashes do need to be cleaned up immediately to prevent stains.
Furthermore, hardwood is also more prone to scratching and denting, so if you have kids, it's best to skip on this flooring, as it's also quite expensive.
2. Laminate
Laminate flooring is affordable and aesthetically similar to hardwood. This synthetic flooring combines fiberboard and resin, is inexpensive, and is available in a wide variety of finishes and styles.
Stone look laminate flooring, for example, makes use of an embossed texture with a slight sheen to emulate the look of stone tiles—without costing you the hefty price of doing so!
You might be put off by the "fake" aspect of laminate flooring as opposed to real hardwood, stone, or ceramic, but you'd be a fool not to consider its superior durability and DIYing ease.
This is due to the laminate's protective layer, which is made to withstand the daily activities of the kitchen. You also have the option of adding soft padding to enhance ergonomics.
However, laminate is probably not the best choice if you want a luxe-looking kitchen. Furthermore, low-quality laminate does pose the risk of being slippery or noisy. Refinishing it is also not an option, so in the event of damage, you'll have to re-install it all over again.
3. Vinyl
Another great budget flooring option is vinyl. Similar to laminate, vinyl flooring also tends to be quite durable and is even available in water-resistant varieties. You have three options in vinyl flooring: tile, planks, and sheet.
One of the biggest selling points of vinyl is the wide variety of styles it's available in; it can easily imitate stone and wood, offering great kitchen cabinet vs kitchen flooring contrast.
Now, although vinyl is super easy to install, it does require an existing and fully flawless subfloor to be installed properly. Denting and scratching are also, unfortunately, possibilities with vinyl, depending on its quality and how roughly it's used.
That being said, if you live in a humid area, vinyl is one of the best flooring options you can look into. It also feels very soft.
4. Linoleum
Ah, linoleum. Who hasn't heard of or loved a linoleum-floored kitchen? Now, you may think of linoleum as an old-school flooring option, but its eco-friendly construction, which combines linseed oil and cork powder (renewable and biodegradable), has been the cause of its increased popularity in recent years.
Plus, not only is it comfortable, but it's also quite affordable. Denting and discoloration are sometimes possible, but refinishing isn't difficult. Furthermore, linoleum is naturally water-resistant, thanks to glued-down seams that make it difficult for water to penetrate through to subflooring.
5. Cork or Bamboo
If you're a lover of the environment, you can look into cork and bamboo as flooring options. Cork's characteristic softness makes it a great choice if you prioritize comfort in your kitchen flooring, thanks to its cushiony underfoot feel.
Bamboo, meanwhile, is very similar to hardwood in how it performs as flooring. It's also super popular with those who like white flooring.
Both cork and bamboo, however, must be refinished periodically depending on the amount of damage sustained. Cork board flooring also has to be layered with a protective finishing to prevent damage from spills.
6. Tile
The durability associated with tiles makes it a popular choice in kitchen flooring, although keeping it clean can be difficult sometimes due to closely packed grout lines.
It's also not a good option if you have a home populated with rowdy kids or otherwise clumsy individuals who are prone to dropping things because it's easy for crockery to shatter on the tile.
Tiles are mostly available in 12" squares and can mimic a wide variety of materials, including wood and stone. You have 3 main options in tiles: stone, ceramic, and terra cotta. Let's have a closer look at each in turn.
Stone Tile
If you crave an elegant yet modern look for your kitchen renovation, stone tile is the way to go. You can choose from slate, marble, limestone, etc., depending on your budget.
However, it's important to consider that stone tile as a whole is significantly more expensive than other flooring types. It's also not particularly comfortable underfoot, especially in comparison to hardwood and synthetic materials like laminate and vinyl.
Ceramic Tile
Ceramic tiles are greatly versatile in terms of size and shape, offering high customizability. Although they are hard underfoot like stone tiles, they are preferred widely due to their durability. Once again, keeping ceramic-tiled floors clean can be difficult due to the grout lines. However, their aesthetic value is undeniable.
Terra Cotta Tile
If you love a rustic look, terra cotta tile is a great option. Although it's made from ceramic, its earthenware component is constructed from a reddish clay (hence its iconic and instantly recognizable look) which can manifest in a number of reddish hues from charcoal to beige.
However, it's risky opting for terra cotta tiles unless you go with a high-density variation. Low-density terra cotta is porous, so it's more susceptible to being stained or damaged by water.
7. Concrete
If you love an industrial aesthetic, you should absolutely consider concrete. Not only does it add an enviably cool look to your kitchen, its durability and low-maintenance nature also recommend it.
Installing it can be quite difficult, however, and usually requires professional help. This will definitely cost you more money, so it's not a very budget-friendly option.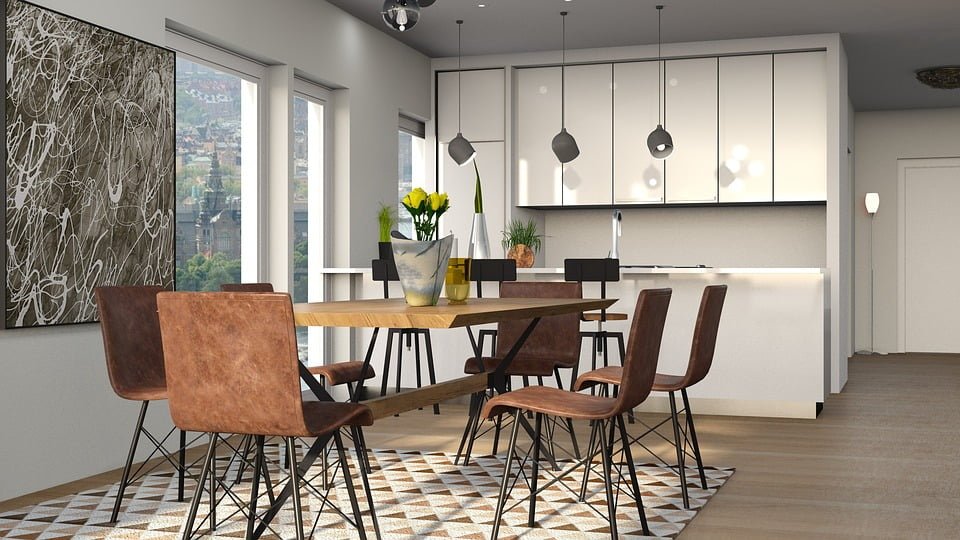 Frequently Asked Questions (FAQ)
1. What are the best cheap kitchen flooring ideas?
The four best budget flooring options are laminate, ceramic tile, vinyl, and cork. These are easy to clean, durable, and easy to DIY.
2. What is the easiest kitchen floor to install?
Undoubtedly vinyl, as it can be installed directly over the subfloor. It's also cheaper as new underlayment does not have to be paid for. Not to mention, it's one of the most durable flooring options available.
3. What is the easiest type of flooring to clean?
Once again, vinyl is the winner. pH-neutral floor cleaners are best for cleaning vinyl flooring but avoid abrasive scrubbers, ammonia-based cleaning solutions, and detergents.
4. Should I install carpeting in my kitchen?
We don't think it's a very good idea because carpeted kitchens are much harder to clean than, say, tile or vinyl. Carpets also suffer greater wear and tear due to the heavy activity associated with a kitchen, making for an unclean appearance. That being said, we think a cute rug or two can't hurt!

5. What is waterproof laminate flooring?
It's laminate flooring that doesn't absorb water and swells due to the integration of core technology. Be wary of the difference between that and water-resistant laminate flooring, which simply takes a long time to absorb water.
Final Words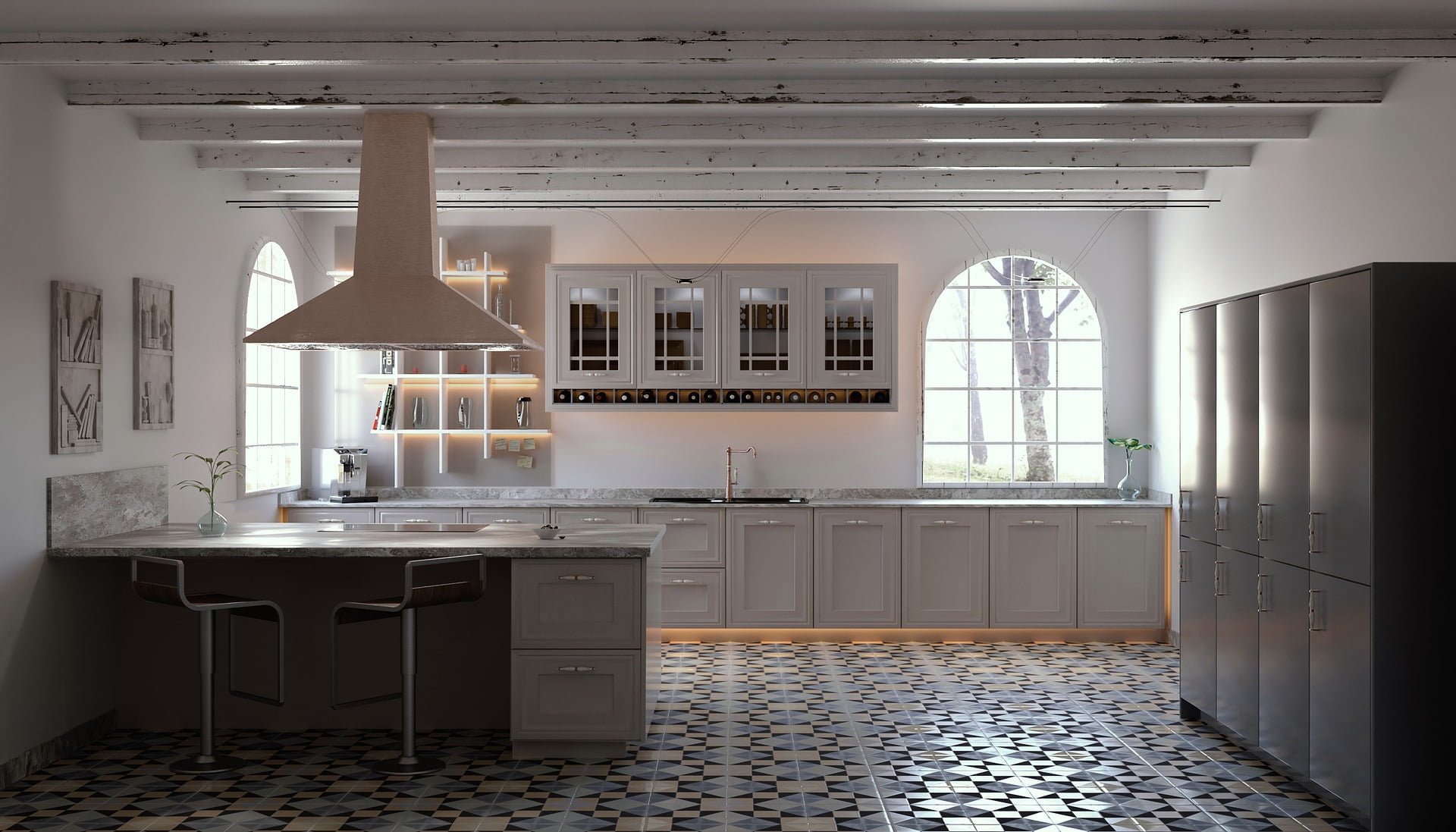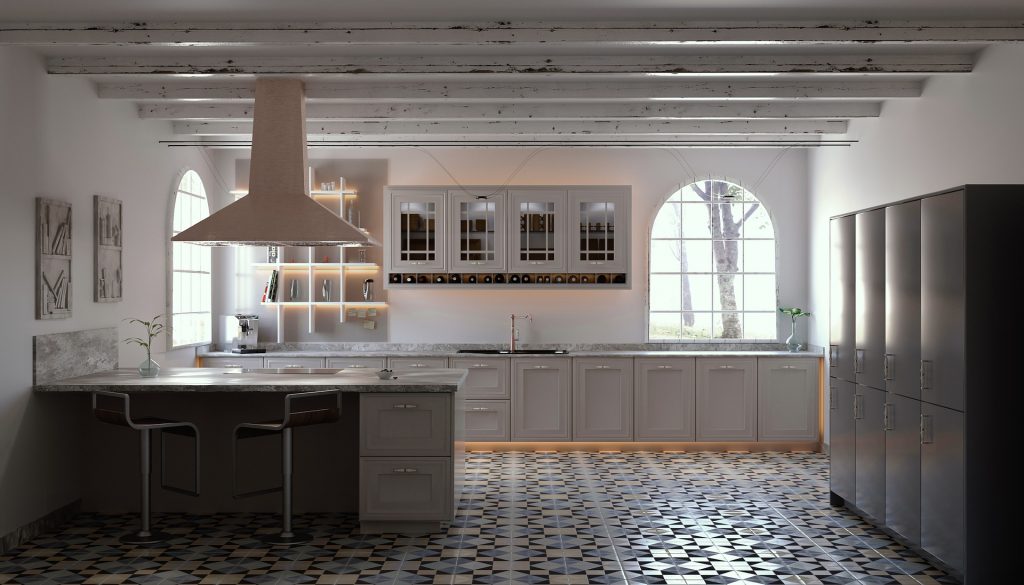 We hope that our kitchen flooring ideas have given you an adequate understanding of which flooring types are best suited to your needs, preferences, and desires.
Remember, beyond aesthetics, it's also important to consider comfort, durability, and ease of cleaning.

If you admire our above kitchen flooring ideas, We, The CuisineStuff would love to hear from you in the comment.

Happy renovating!