Blender is often thought to be one of the necessary kitchen appliances. Whether you want to make a smoothie for your little ones or make a protein shake for your diet, a blender is needed. As it is not always considered as a luxury item, you do not want to spend quite a fortune on it. Lucky for you, we are here to solve this problem.
Currently, the market is full of various types of blenders at various ranges. Such as- hand blenders, countertop blenders, personal-size blenders, and so on.
We are here to help you find the best budget blender as well as the best blender for frozen fruit from these various types. So come with us as we give you a tour of the world of the best budget blenders.
The best budget blenders In The Market
The blenders are categorized from high prices to low suiting your budget.
1. Cuisinart Smart Stick Hand Blender

From the name you can say that it can be categorized as a hand blender. Cuisinart is one of the cheapest all round blender available. It is both versatile and durable. If you and your family want to operate in a quiet environment, this blender will be your go to as it produces very little noise.
The blender is made of stainless steel with a good all-around grip to make it more user friendly. You can use it in any convenient bowl.
Price: 39.95 USD.
Key Features:
For pulse or continuous action, a push button is available.
It has a strong 300-watt power supply.
Quiet DC motor.
Variable speed control.
Chef's whisk attachment.
Comes with 3 cups chopper/ grinder attachment.
2 cups for mixing/measuring.
Limited 3 years warranty.
2. Oster Blender Pro 1200
We know you have already heard of a smart computer. But have you ever heard of a smart blender? If you haven't, we present you the Oster Blender Pro 1200 with smart setting technology which has 7 different settings to apply. It can also chop and grind more precisely with its dual direction blade.
Moreover, you can put it in the dishwasher as the glass jar is dishwasher safe. Overall, it is a modern tech at an affordable price.
In the Blender sector, Oster Blender is becoming the best budget blender for maintaining it's quality and value intact day by day.
Price: 69.99 USD.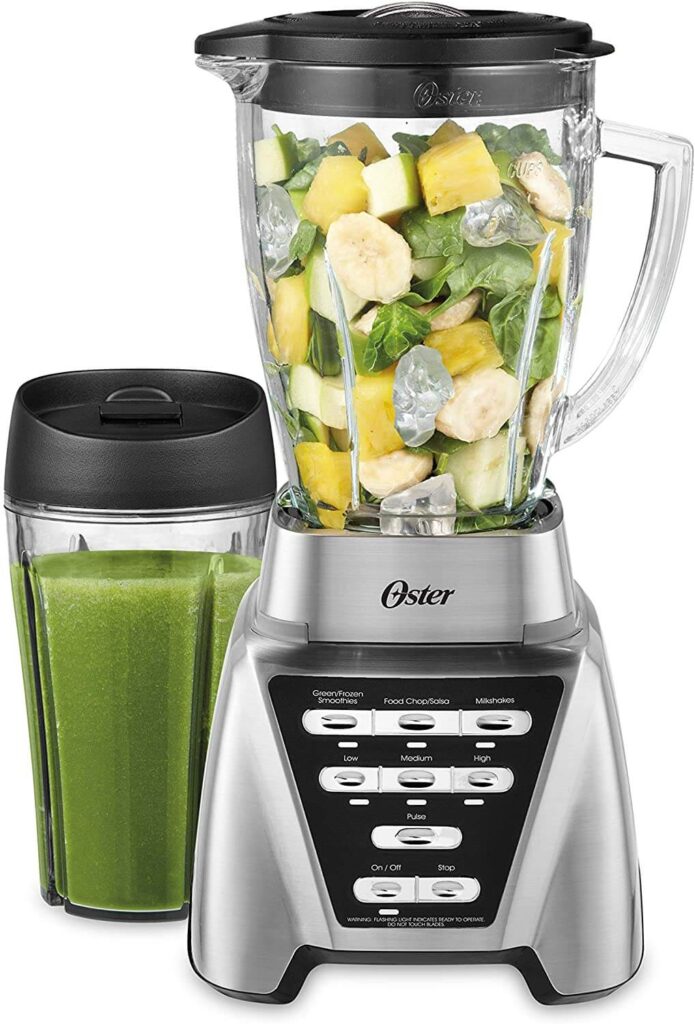 Key Features:
Smart settings technology with 3 fixed modes and 7 types of speed settings.
Dual Direction blade technology allows the blade to spin both clockwise and anti-clockwise.
A power supply of 1200 watts and 900 watts.
6 cup dishwasher safe Boroclass glass jar withstands thermal shock.
Oyster 10 Year Duralast All-Metal Drive Limited Warranty For Permanent Durability.
Extra-large capacity includes 24 ounce smoothie cups.
3. Ninja Professional 72 Oz Countertop Blender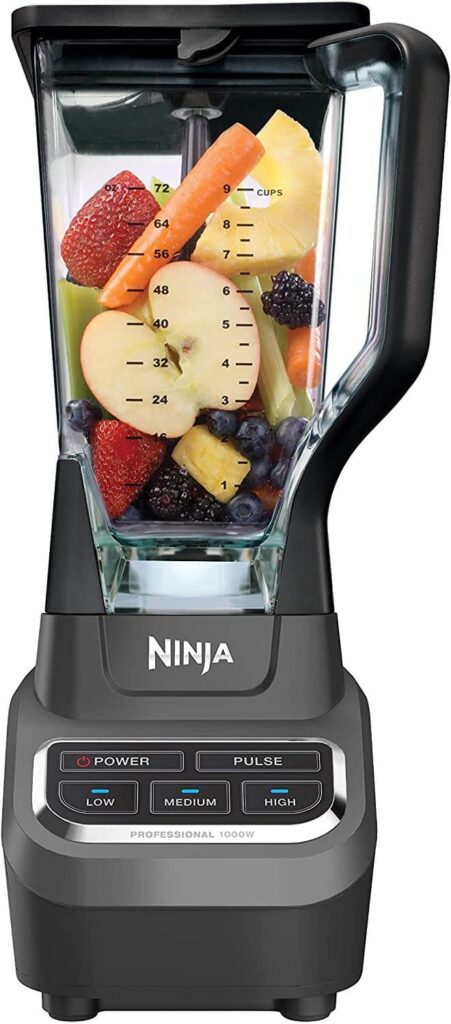 Emerging as the first countertop blender in our list is the Ninja Professional 72 Oz Countertop Blender. Looking for a blender with big capacity and well around efficiency, Ninja Professional blender can provide you that with many more amazing features. With its total crushing technology, you can make a smoothie or crush and mix ice and fruits in no time.
This blender can be the best budget blender for you. Because the price is affordable as well as the service is very promising.
Price: 97.90 USD.
Key Features:
Equip with Total Crushing Technology.
64 ounce of liquid capacity with 1000 watt power.
6 blades to crush everything faster.
Though it is not dishwasher friendly, it can be cleaned with a damp cloth.
4. All-Clad KZ750D Stainless Steel Immersion Blender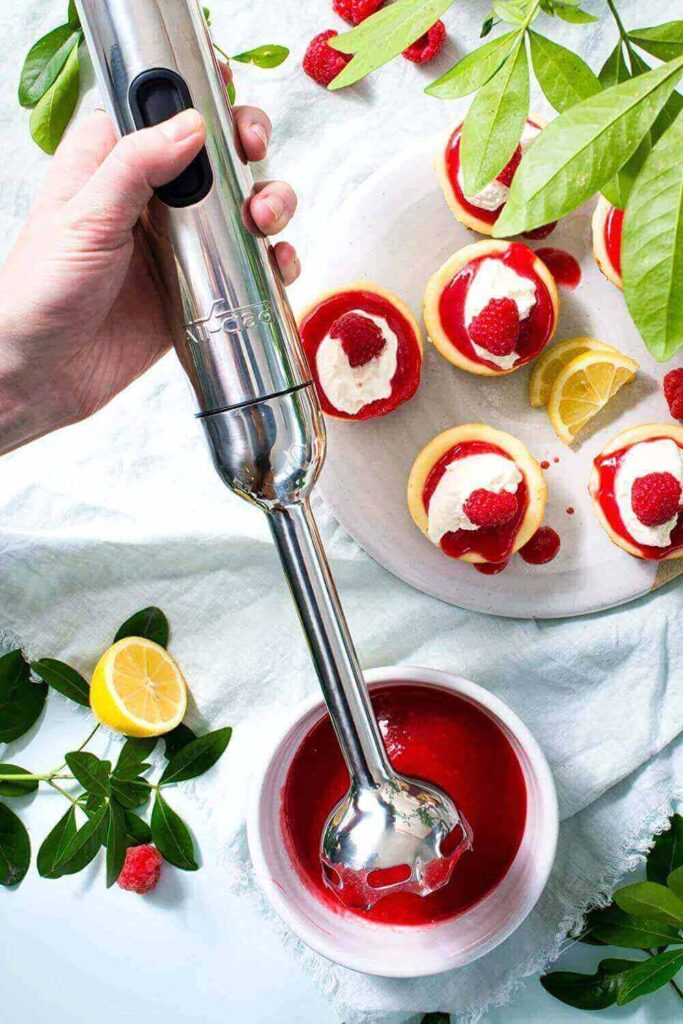 All-Clad KZ750D Steel Immersion Blender is a high performance hand blender. Along with its stainless body, it comes with a long shaft of 9-1/4 inch that helps you to have greater control over the blender.
The blade design also helps the chef to blend easily without spoiling the items much. Two power settings of the blender also help you with easy controls.
It may look a bit overpriced but its all-around quality and performance match the price.
Price: 99.95 USD.
Key Features:
Stainless steel body.
High performance immersion blender makes quick work for food prep.
Two types of settings: power mode and turbo mode, with the variable speed control dial.
Large blending head to reduce splatter with a 9-1/4 inch long shaft.
5. Ninja Professional Countertop Blender 1100 watt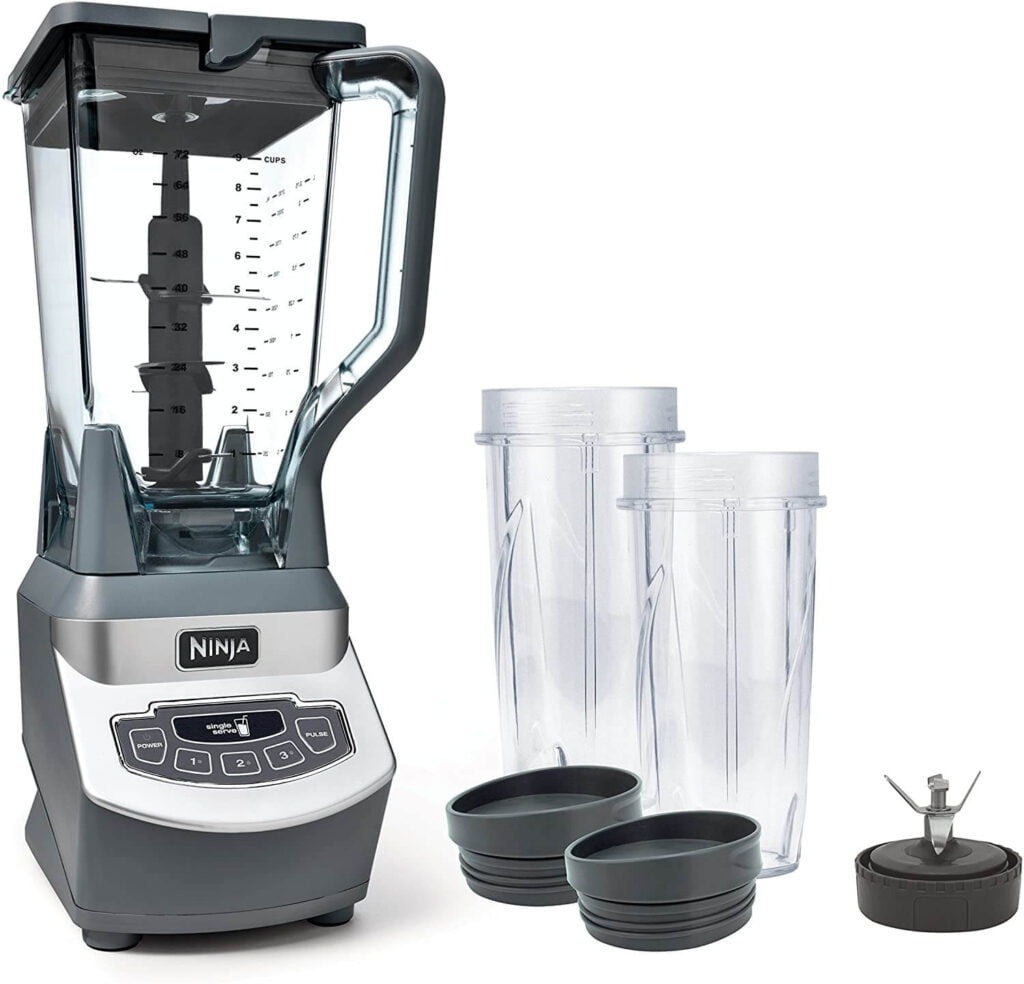 This blender serves as a big brother of Ninja Professional 72 Oz Countertop Blender (1100 watt) as it gives you a bit extra of everything.
It comes with 2 extra 16 oz cups with to go lids so that you can make a quick shake and carry it with them any time you want. A total crushing pitcher also helps you to crush ice and fruit in a flash.
Price: 117.01 USD.
Key Features:
1100 watts of power supply.
Pulse, 3 speed, and single serving function.
A total crushing pitcher with a capacity of 72 oz.
2 16-ounce cups with to go lids. They are called Nutri Ninja cups.
Dishwasher safe.
6. KithchenAid KHB256 OB 5-Speed Hand Blender
If you want to up your budget a bit to get the best, you have to look at this all rounder. A blender of all expertise. You want to crush ice, froth milk, puree soup, or just want to make a plain simple smoothie, this blender can do it all. You just have to name it and you can make it. 3 interchangeable blades with a whisk attachment are the main mystery behind its great versatility.
The KitchenAid KHB256 OB introduces us to the industry's first interchangeable bell blades. The KitchenAid KHB254 OB is also has a great impression as the best blender for frozen fruit.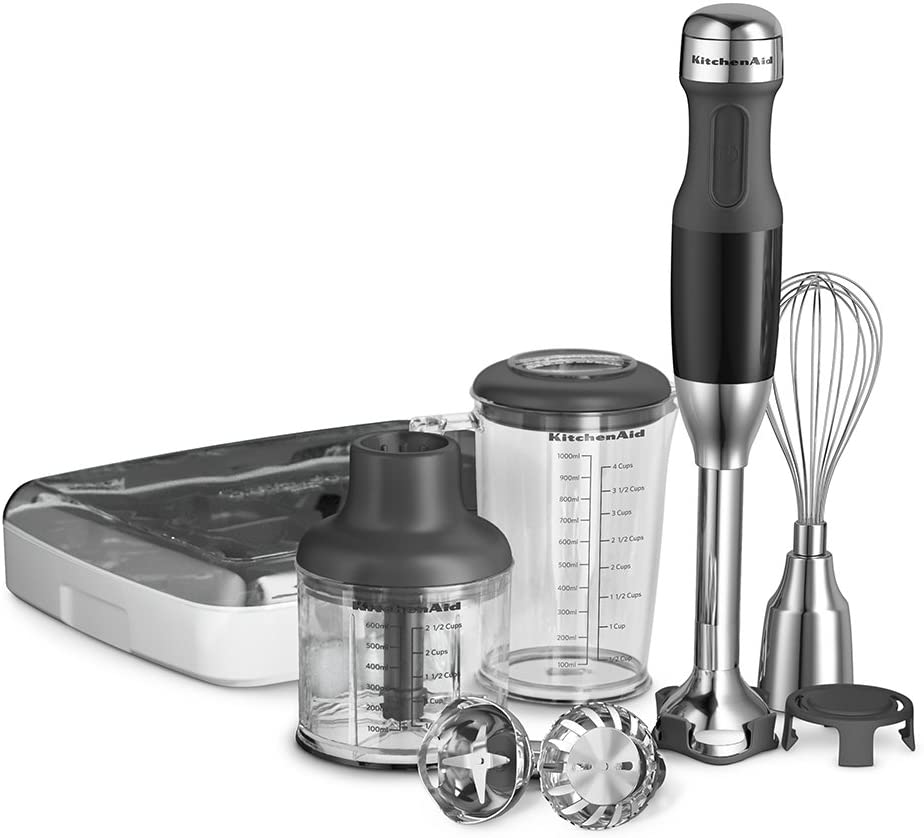 Price : 149.99 USD.
Key Features :
Removable 8″ blending arm.
3 interchangeable bell blades (industry's first).
Added whisk attachment.
2-1/2 cup BPA free chopper attachments with lid lock.
1 liter BPA free blending pitcher.
Dishwasher safe.
Conclusion
The market is currently flooded with many many blenders. You can find many varieties of blender everywhere. Moreover, You can also find the best blender for frozen fruit.
Our main concern is to supply you the best budget blender and we are doing so by telling you each and every detail of it. Now it's your turn to make up your mind and bring home a new helping hand.
Have a nice day!