Grilled meats & veggies are some of the tastiest foods around. Probably, every kid remembers seeing their parents grilling smoking hot sausages or meat stakes. A party with friends or a close family dinner – grilled foods or to be precise, grilled meats are indispensable parts of both. But grilling outdoors is quite a tough job and also you miss a lot of the fun while you're grilling in your garden for a long time. That's where grill pans come in to save the day. They are like normal fry pans but with grill lines all over them giving you the perfect outdoor grill experience without having the troubles of setup or smoke. They also provide a more detailed taste by better absorbing them while you grill.
Most of the grill pans nowadays come with oven compatibility that gives them more versatility and makes your grill work easier, tastier & more convenient.

So, in case you're wondering about having a few friends & family over at home, take a ride through our following article about the best grill pans out there to have a nice, comfy, and fun day at home without much hustle. Moreover, you might take a dutch oven along with a grill pan for your kitchen. It would be a great renovation for your kitchen.
10 Best Grill Pans In The Market
1. Lodge Cast Iron Grill Pan (L8GP3)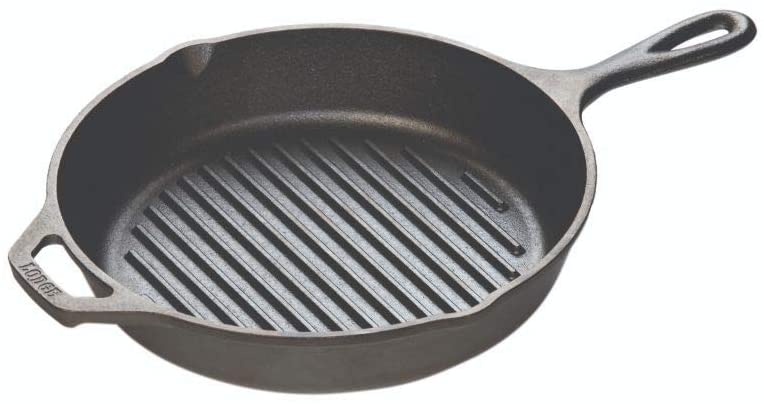 The Lodge L8GP3 Cast Iron Grill Pan is a great addition to any kitchen as it offers a classical cooking experience along with modern comfort. It is available at a low-price.
The deep-ridges on the bottom of it make it perfect for grilling any food. Its cast-iron means it can brown your meat evenly making them moister and tastier.
It has a strong handle coming with the option of hanging also. Whatever you grill in it or wherever you use it, it should last generations due to its heavy durability. Lodge Cast Iron Grill pan has a very good review among the best grill pans in the online industry.
Alternatives
Lodge L8SGP3 Pre-Seasoned Cast Iron Grill Pan is a good alternative coming from the same company. Its pre-seasoning prevents any rusting.
FAQ
Q- How should I clean this pan?
A- First, rinse the pan with water, then use a scrubber to clean it properly; but you shouldn't use soaps.

Q- Can I use this product in my oven?
A- Of course, you can. It is oven safe.
2. Calphalon Grill Pan Nonstick (11″)
The Calphalon brings in your kitchen a great combo of style and efficiency. An amateur or a professional chef-this product is loved by both groups. It has a comparatively longer lasting non-stick than its predecessor-the classic; so it has greater durability. Its long handle makes sure that it keeps itself cool even at high temperature & you don't burn your hand.
It is both dishwashers safe and oven safe and also compatible with most stoves. Calphalon offers you their lifetime warranty on this product like the usual. This product is gradually gaining a solid position in the Best Grill Pans.


Alternatives
The Calphalon Grill Pan Nonstick (11″) is a good option to buy but It costs a little more, obviously 25 more.
FAQ
Q- Where is the pan manufactured?
A- It is a true American product produced in Toledo, Ohio.

Q- Does the pan come with a lid?
A- Unfortunately, no. It doesn't come with a lid.
3. Cuisinart Grill Pan Nonstick (11")
Cuisinart's GreenGourmet series comes with their very exclusive ceramic non-stick surface guaranteeing the absence of petroleum in their ceramic coating. It is oven safe & uses less energy as it has above the class heat conductivity. It is dishwasher safe and its maintenance is super easy.
If you are environment friendly person then you are going to love this product more, as 70% of its handle is made of recycled stainless steel and 100% of its packaging products are made of recycled products.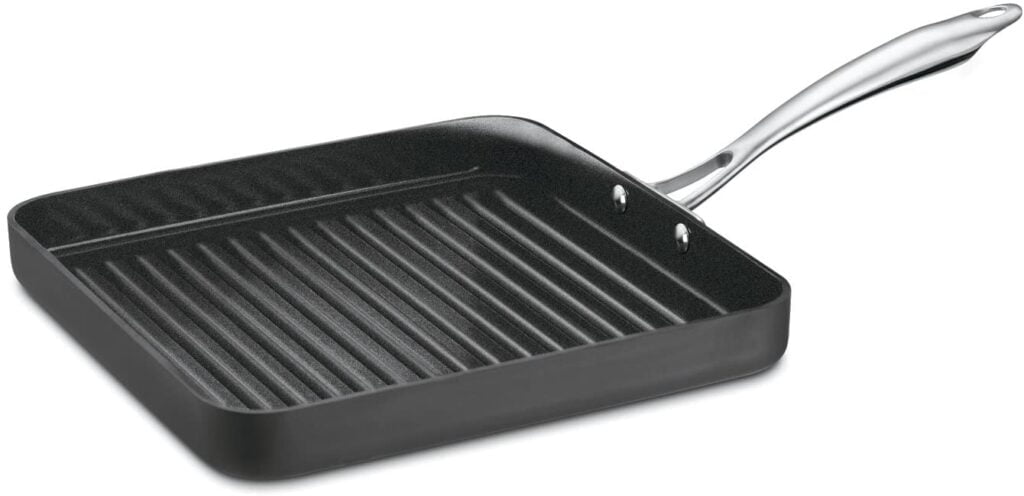 Alternatives
The All-Clad E7954064 HA1 11-inch Hard-Anodized Nonstick Grill Pan is a considerable option in the same price range.
FAQ
Q- Can this be washed in dishwasher?
A- As like any other Anodized-Aluminum product, this can be washed in dishwasher as well.

Q- Does this work on vitro-ceramic ovens and electric stoves?
A- Yes. It works well on both of these.
4. Vremi Grill Pan Square (11″)
This is one of the best & most modern options in the cast iron grill pan market coupling with a very much affordable low-price. It works on any & all kinds of the stove and its perfect size and shape allow the foot to be evenly heated. As the pan comes pre-seasoned, it gets tastier with every use. It is oven safe & can handle the very high temperatures. With dishwasher safe and easy to clean features, it is a very handy grill pan.
Its red silicon coated handle gives you protection against heat. (Oven mitts or gloves are still very much recommended while handling) Also, it can cook almost anything want anywhere you want whether in home or at a camp. We recommend that this one could be definitely the best grill pans ever for you.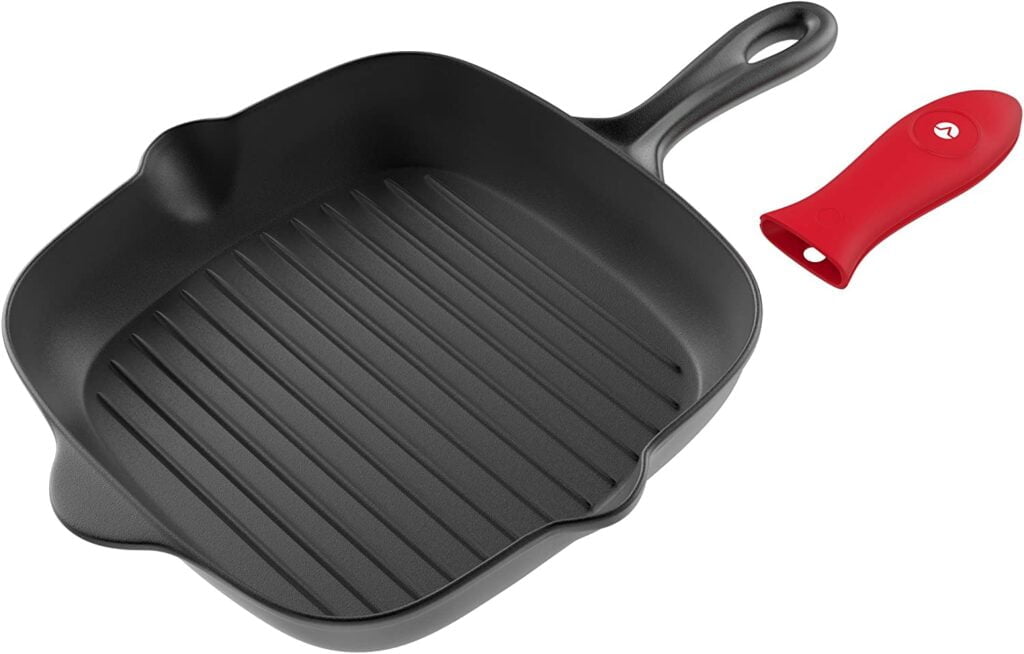 Alternatives
It's hard to compete against a complete product like this in the low-price range. But if you still want to look at the competitors you can look at COOKSMARK & S-KITCHN's non-stick square grill pans in the same price range. But Rachel Ray Griddle Pan is the only real fighter of Vremi Grill pan in the best grill pans industry.
FAQ
Q- Does it work on an induction cooker?
A- Yes. Definitely it works in all kinds of ovens.

Q- Does it have any cover?
A- Unfortunately, no. It comes with no cover.
5. Rachael Ray Griddle Pan Square(11″)
You will obviously expect good products form a renowned name like Rachael Ray & we can certainly say that you will not be disappointed with this product. It is one of the most hyped products in the markets and reasonably so. This durable hard-anodized product gives you the pleasure of fast & even grilling.
It's high-quality non-stick makes sure of easy cleaning. It is both oven safe & dishwasher safe. Its rubber padded colorful silicone handle ensures a comfortable grip & keeps you safe from the heat. Rachael Ray's lifetime warranty also adds to the attraction of this product. Their services are very much among the best grill pans.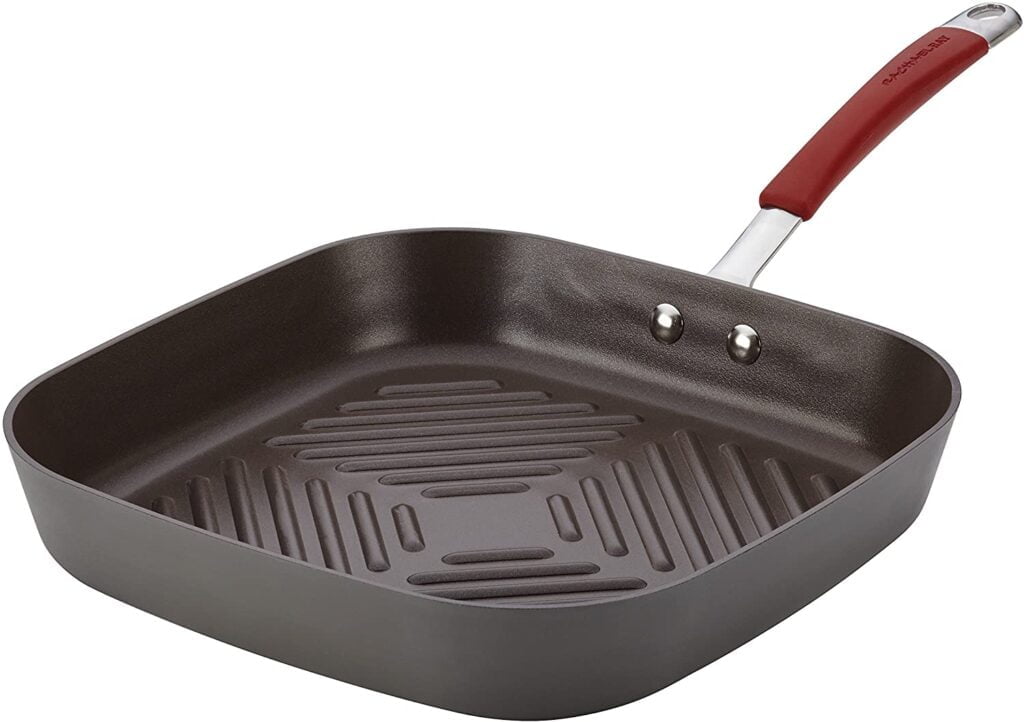 Alternatives
Vermi Grill Pan Square (11 ") is the main competitor of Rachael Ray Griddle Pan in this price range.
FAQ
Q- Does this work on an induction stove?
A- According to the seller, they are not suitable for induction cooking, but works well on every other stove.

Q- Does it come with any lid or covers?
A- No, it does not come with any of these two.
6. Gotham Steel Grill Pan (10.5")
Available at a very low-price, the Gotham non-stick grill pan is perfect for grilling your burgers, bacons, chickens, steaks & so on. Its exciting new Ti-Cerama coating gives you the perfect combination of non-stick & durability. Its size & shape ensures that you have a great amount of cooking space. It is both oven safe & dishwasher safe.
The composition of aluminum in this product ensures an even heating platform for all the foods you grill. The grill pan's easily distinguishable deep ridges add appealing seared looks to your grilled foods. If you are looking for the cheap best grill pans, then this one would be a good option for you like a complete package.

Alternatives
The Lodge Cast Iron Grill Pan is a very good alternative, the best seller in this price range.
FAQ
Q- Can this be used in induction cooking?
A- Unfortunately, no.

Q- Can I use this pan to cook bacons?
A- Yes, you absolutely can.
7. Tramontina Grill Pan 80131/059DS
Coming with a lot of color choices, the Tramontina grill pan will bring a colorful & festive environment in your kitchen. Its porcelain enamel seared cooking surface ensures that you don't lose any flavors and also can clean it easily.
It's compatible with all kinds of cookers or stoves including the induction cookers which many of the grill pans in the market don't offer. It also comes with a handy press that can put its weight on your food & make your cooking faster. It is oven safe & offers a lifetime warranty. Tramontina Grill Pan is also looking so gorgeous with a color of red among the other best grill pans.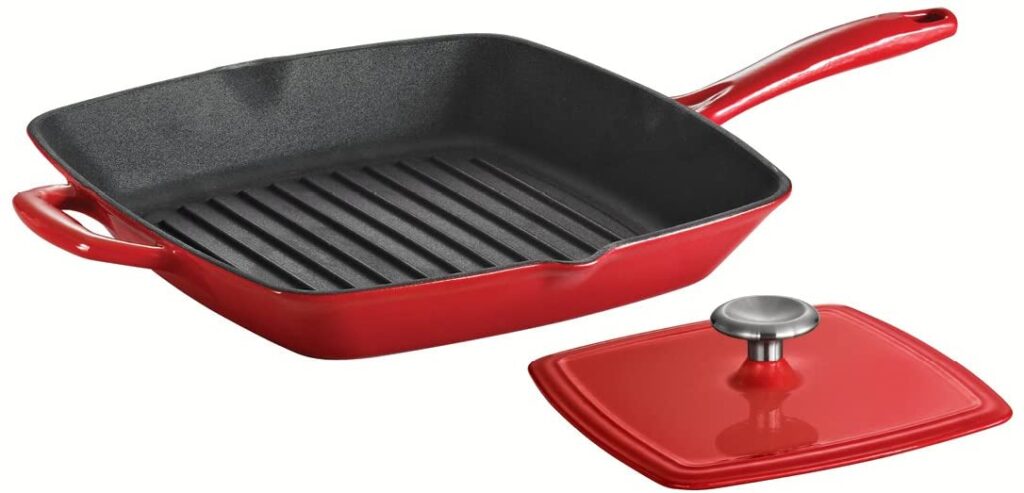 Alternatives
The Calphalon Grill Pan is a great alternative in the same price range.
FAQ
Q- Where is it made?
A- It is manufactured in China.

Q- Does this have any lid?
A- Yes, it comes with a self-basting lid.
8. Calphalon Contemporary Grill Pan
Calphalon has brought yet another product with their very own, exclusive hard-anodized aluminum system. This makes their product lightweight and sturdy both at the same time along with ensuring the even heat distribution on food while you're grilling them.
It also brings a handy 3-layer non-stick coat, with the first 2 layers improving durability & the third one making the pan non-stick. Its ergonomic handle design gives you a comfortable grip & keeps you safe from the heat. It is oven safe & as you can guess, it comes with the Calphalon lifetime warranty like the usual.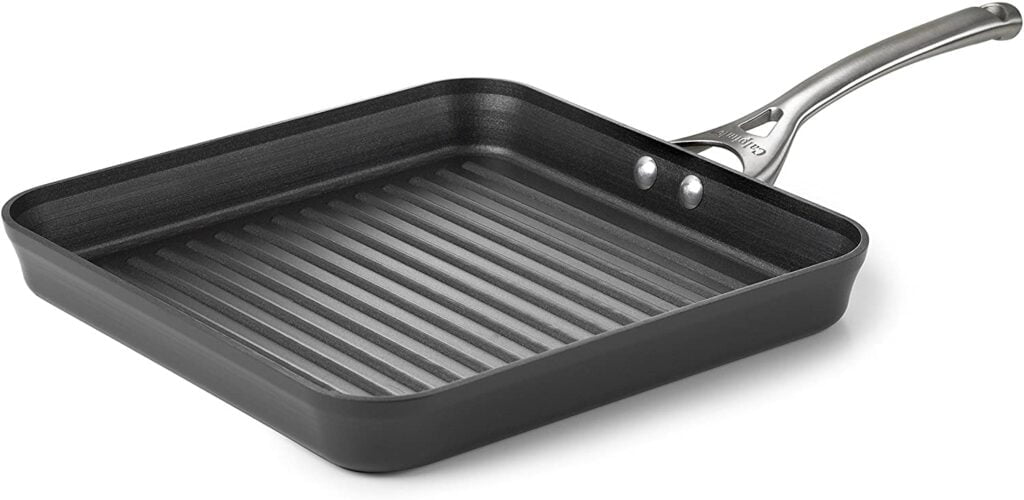 Alternatives
The Calphalon Nonstick Square Grill Pan (11″) can be a good alternative product.
FAQ
Q- Does the square pan on the round burner heat evenly?
A- Yes, it does pretty evenly. But sometimes might be a bit cooler on the edges, so better rotate the pan every once in a while just to be sure.

Q- Does the pan create any smoke?
A- No, it doesn't create smoke.
9. TeChef BBQ Non-Stick Grill Pan
This is one truly amazing looking grill pan with carefully shaped & unique spiral ridges. And the spiral ridges not only increase its beauty but also come very handy while cooking as it channels the oil slowly & brings more flavor than usual.
The spiral ridges along with the drip hole on the side also help to remove the extra oil or grease from any kind of meat. Its unique Teflon coating makes it completely non-sticky. As like all Korean products, it delivers outstanding performance & quality.
TeChef Grill Pan must be oven safe and dishwasher safe. This grill pan is pretty much popular in the community of the people who are looking for the best grill pans.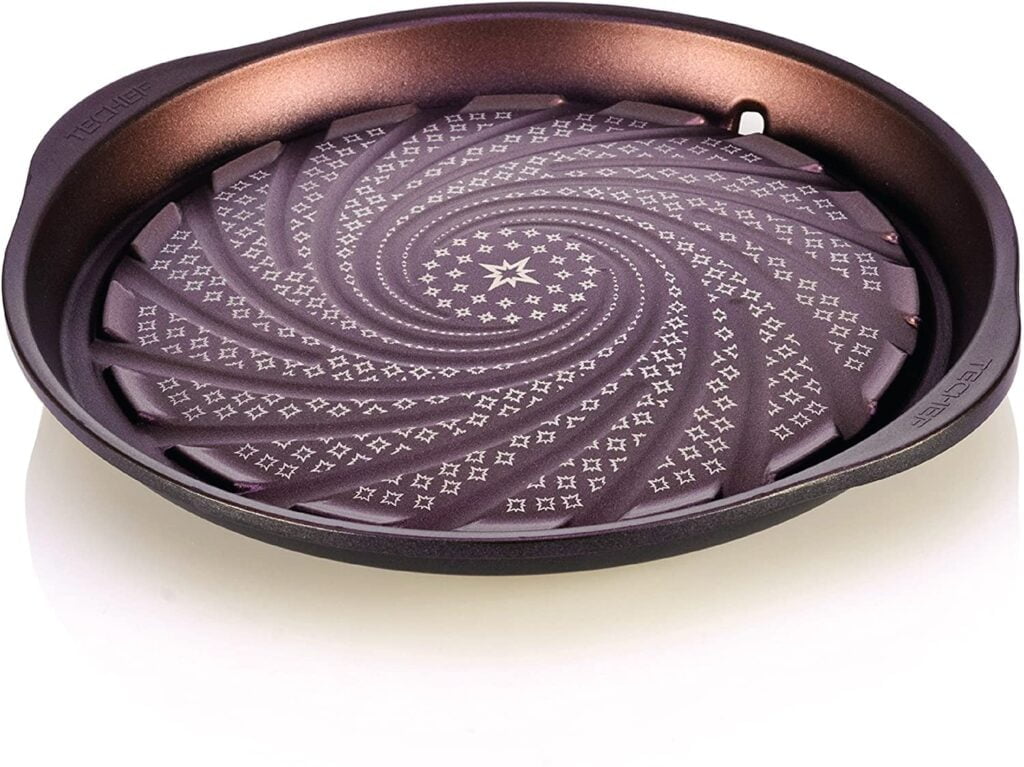 Alternatives
The Zyliss Cookware 10″ Nonstick Grill Pan is a great option in the same price range.
FAQ
Q- May I use the TeChef Grill Pan in my gas stove?
A- Yes, you can. You just have to make sure to have some tray or bowl ready for collecting the oil dripping from the drip hole.

Q- Where is this product made?
A- It is a Korean product.
10. IAXSEE Non-Stick Carbon Steel Grill Pan
Well! We know you are tired of reading all these reviews. (We certainly are) We promise you this is the last one for today. The IAXSEE grill pan is a very handy product at the below 20$ price range. Its horizontal stripes harden the pan & ensure keeping the original flavor & tenderness of the foods. Its pointed beak design helps drain any excess oil or grease.
The double-layer coating ensures the non-stick feature as well as durability. The most insightful feature of this product is the foldable handle; it on one hand makes the product easy to store and on the other hand its heat resistance nature helps keep your hands cool.
Its large surface ensures more cooking space for you. It works on all kinds of cookers or stoves except the induction cookers. Moreover, it's a thing that fits in the kitchen. IAXSEE grill pan could be a favorable option considering the lowest budget of the best grill pans.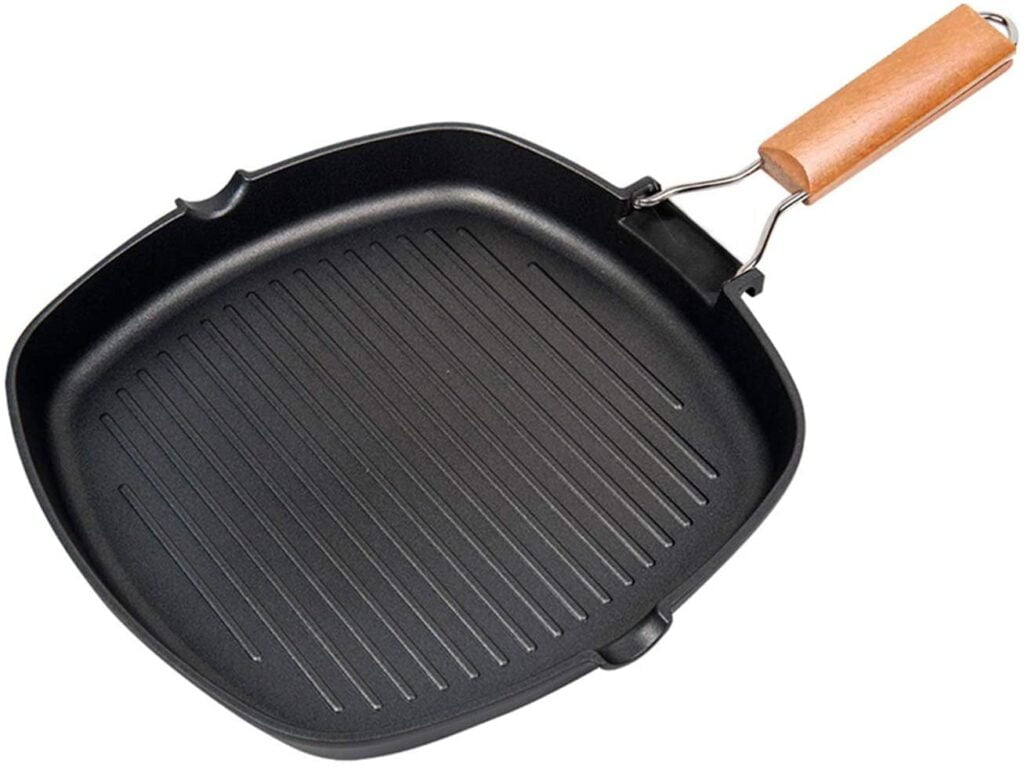 Alternatives
Lodge Pre-Seasoned Cast Iron Grill pan is the best competitor at this price range.
FAQ
Q- Are the folding handles stable?
A- Yes, they are stable & convenient at the same time.

Q- Does this pan work on gas stoves?
A- Yes. It works on all kinds of stoves & cookers except the induction cookers.
Conclusion
There is plenty of other grill pans out there in the market. If you have no idea about them, you may wander around being lost in the shops & think where I have come.
Hence, we, from Cuisine Stuff are trying to bring you updates about the best grill pans around, from where you can choose your own one or at the very least get the idea of what to expect from these grill pans while buying.
Hope we could be of some help to all of you out there. That's all from us for today. Happy grilling, happy cooking!
We wish you good luck!