No coffee tastes nearly as good as ground coffee & it gets even better when it is ground freshly. But the readymade coffee packs out in the shops or markets don't allow you to feel that blissful taste of freshly ground coffee. That is why you need the best budget coffee grinder.
It may take a bit more time out of your day but the taste of the coffee will make it worth the time & work. And when you are going to buy a coffee grinder, you will obviously look to buy the best ones at the lowest price available (at least most would).
Hence, we are featuring next on our website this article about the best budget coffee grinders that will fit right into the budget of almost everybody. We know the value of your time & money, so we will try to make our article & suggestions the most effective so you don't miss out on the best things or regret.
Why Should You Buy Coffee Grinders
You may wonder at first about why you should use your valuable time & money over coffee grinders when you can have readymade ground coffees at shops.
Well, nothing can beat the taste of freshly ground coffee – as simple as that. Freshly ground coffees hold all the necessary oil, aroma & flavors that fade away with time in the case of readymade ones.
So, it may take a little bit more time out of your day, but it sure is worth it.
Which Coffee Grinder Is The Best Between Manual or Electric Grinder
Well, although they are of different types, while comparison comes, electric one holds a bit of an edge.
First of all, a manual grinder takes way too much time to prepare ground coffee for only 2-3 person whereas you can get ground coffee for a small-sized party in the same amount of time.
Then, you can easily make different forms of ground coffee in an electric grinder with many preset settings available from the finest to the coarsest. But for making an even fine or coarse mix of ground coffee you have to try different types of combinations & methods in a manual grinder before they come out perfect.
Also, not to mention electric grinders offers you the latest of technologies in every aspect.
It's not like the manual ones don't have many advantages, they also have their own advantages. Manual ones can make a more even or uniform grind once you get a hold of it & they are more reliable than the electrics as well. But judging from the user's perspective (which will be you), we find the electric ones more convenient to use in a regular manner.
Discussion About Blade & Burr Coffee Grinders
Blade coffee grinders use blades (you can already say that by the name, duh!), so they rather chop the beans resulting in uneven grinds at times.
The burr grinders, on the other hand, use their 2 burrs like funnels to constantly grind the beans & make an even, uniform grind. Although, blade grinders cost less, burr grinders are more durable relatively as well.
So, if you have to choose between them, go for the burr grinders.
The 10 Best Budget Coffee Grinder Available In The Market
This is one fine product coming from the SHARDOR store. It's 14 different grind settings allow you to be versatile offering great range & grind your coffee to be the finest ones or the coarsest ones.
The stainless steel grinder makes sure that you get the most even grinding every time you use it. This grinder allows you to make ground coffee for 12 cups at one go. The parts of this grinder are easily removable which makes it convenient for easy cleaning.
The compact size of this grinder also ensures that it doesn't take much space in your kitchen. It packs a two in one spoon as well, one end of which works as a spoon & the other as a brush for cleaning the leftovers.
If you have been following our articles then you are already familiar with the name of this manufacturer. There probably isn't any kitchenware that they don't produce.
This coffee grinder from Cuisinart comprises a disc burr that processes the grinding. The burr grinding provides the most uniform grinding and gives you the optimum flavor for your cup of coffee.
The body chamber can hold ground coffee for as much as 32 cups. It's 18 different grind settings allow you to make from superfine to extra-coarse ground coffee according to your choice. It has an electric timer that automatically shuts off the grinder when grinding is complete.
This is one of the most user-friendly coffee grinders in the market. It can hold ground coffee for making as much as 12 cups. It also has an automatic shutdown available as soon as the grinding ends.
The burr coffee grinder ensures none of the essential oils are lost by way of oxidation, making sure that the natural flavor, aroma & all the internal food values remain intact. The 19 different grid settings allow you to be choosy in terms of grinding. The dust-proof lid of the grinder keeps the ground coffee inside fresher for a longer period of time.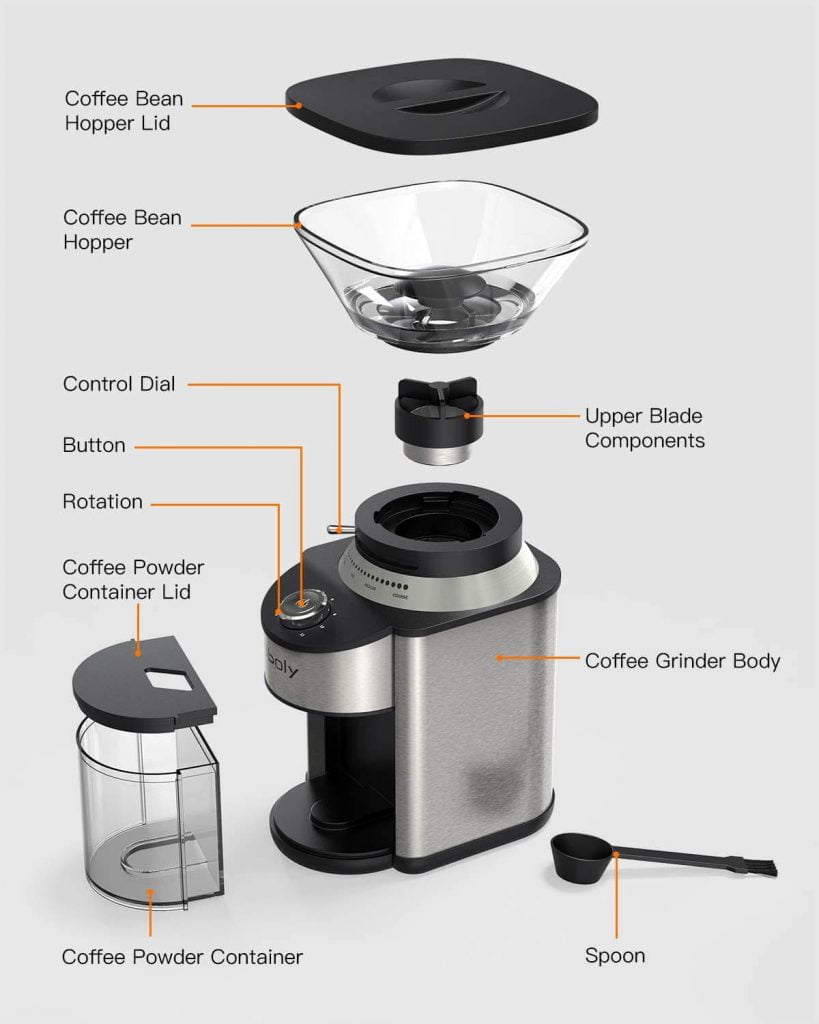 Its compact design also helps with easy use & storage of the grinder. Its multiple certifications guarantee its sturdiness & durability.
Its built-in scale is one of a kind & keeps this product in a different class as users find the scale accurate for grinding operations. It's 40 mm stainless steel conical burrs are very durable & create the most even ground coffee with optimum flavor extraction from them.
Its 15 different settings allow you to grind the coffee according to your needs. The one-touch start timer keeps the memory of your last setting & starts with it the next time with just push to grind ready. Its hopper can hold up to 0.75 pounds of coffee beans to be ground while the ground container can hold up to 110 grams of ground coffee, enough for making 12 cups of delicious coffee.
The Capresso grinder allows you to have precision grinding every time you use it. Its steel conical burrs with advanced designs help grind your coffee to the most, even form whether it is fine or coarse.
A total of 16 settings allow you to choose from extra fine to extra coarse form. The gear reduction motor grinds slow with making reduced noise & also preserving the natural aroma in the process.
The grinder can hold 8.8 ounces of coffee beans & 4 ounces of freshly ground coffee. A safety lock is included in this grinder also. The grinder is easy to clean as well with removable parts. A cleaning brush and measuring scoop are included with the package.
This one is here has actually won awards for itself which certainly proves its usefulness. It has a user-friendly interface with a simple pulse & on/off button. It also offers one of the most settings in the market – an astounding 40 different settings for you to choose your coffee's fineness/coarseness from.
Its hardened conical alloy steel burrs along with a powerful DC motor create a perfect combination of efficiency & durability at the same time. Baratza also offers a 1-year warranty with this product.
So, it would be a complete package as the best budget coffee grinder for your kitchen.
This stainless steel conical burr grinder from Breville is designed specifically to minimize the heat produced while grinding & protect all essential oils & flavors of the coffee. It has an unbelievable range of 60 different settings that sets it apart as you can make a whole lot of finer or coarser coffee with this.
It has an electronic timer that allows you to adjust the grinding time on each use. The grinder has a capacity of holding 18 ounces of coffee beans. The grinder also features locks & easy removal of parts for convenient storage & easy cleaning.
This one is like a perfect match for those who want a taste of every technology within a fixed budget. The bistro burr grinder preserves the bean's natural flavor and aroma in all conditions.
It gives you 12 different settings to grind with. The push button with a pre-set timer lets your coffee beans be ground perfectly. The friction clutch protects the grinding gear by the presence of small stones. It can hold up to 7.75 Ounces of coffee beans waiting to be grounded. It is dishwasher safe.
It is a 2 in 1 machine where grinding happens in the built-in grinder & then the brewing of coffee starts automatically giving you a hot cup of delicious coffee. You can also choose to use whole beans or freshly ground coffee for brewing – the machine allows both. It allows you to grind your coffee beans to either fine or coarse form.
The one-touch pause option allows you to pause the brewing or grinding any time you wish & do the work according to your convenience. Its removable parts allow easy cleaning as well.
It is a fine grinder with one of the simplest user-interface around. Its push top button offers you easy operation while grinding. Its push top button offers you easy operation while grinding. You can choose between the coarse & fine forms with the adjustments of time.
The blade & cup are made with stainless steel while each part is removable – thus, offering easy cleaning & storage. It is dishwasher safe also. And it is great not just for grinding coffee beans, but also for dried spices, nuts, grains, etc. as well.
How Much Does A Good Coffee Grinder Cost
Coffee grinder kind of falls into the middle to the high end of the cookware market meaning that they cost usually a bit more than the usual products you use in your kitchen like different pans or skillets or saucepans.
We are only reviewing the best ones that fit right into everyone's budgets. But still, there is a considerable range of difference among the prices of the best budget coffee grinders in the market.
As you can see, the best countertop microwave ovens we featured in our article are available in a wide range of prices. Now it's up to you to read our review, consider our suggestions & recommendations & choose the best budget coffee grinders according to your needs & choices.
How To Choose The Best Budget Coffee Grinder
You have to look at a few things when you decide which one is the best. Look at the size & capacity of the grinder & choose one according to your need. Then take a look at the grind settings or sizes to know how fine or coarse can the grinder make your beans.
Also, look at if they have removable parts or not & if they are easy to clean (which most of them are naturally). And also, as you are choosing the best budget coffee grinder, you have to look for your convenient price range. There you go – that's the perfect recipe for choosing the best budget coffee grinder.
Best Coffee Grinders Within Budget
Coffee grinders are one of the most indispensable needs if you are choosy about your coffee. You can perform various grinds with the touch of buttons easily, giving you the luxury of choosing from the finest to the coarsest ground coffee.
As we are talking about the best budget coffee grinders in this article, we as always will think about everyone's budget before suggesting the best grinders from our list. Among the ones we have mentioned, DR MILLS DM-7451 Electric Dried Spice and Coffee Grinder has the cheapest price ($31.50). But while making the suggestion for the best grinder within budget, we have to take quality into consideration as well.
There's no clear winner amongst the grinders in our article. But considering all things, DR MILLS DM-7451 Electric Dried Spice and Coffee Grinder, Sboly Conical Burr Coffee Grinder, Cuisinart DBM-8 Supreme Grinder & the Sboly Coffee Machine Grind and Brew can be your go-to choices fitting right in your budget.
How Easy Is Coffee Grinder To Clean
Well, each grinder has a different set of characteristics, but still, most of them are relatively easy to clean. Most of the grinders have removable parts & they also provide cleaning brushes in most cases.
So, they are pretty easy to clean actually. In some grinders, you'll even find that they are dishwasher safe making them further easier to clean.
Which Brand Of The Coffee Grinder Is The Best
As we have always said before, we would like to repeat it again that choosing a singular brand as the best is very hard & most of the times unfair to some of the others as well.
The Breville BCG820BSS Smart Grinder may be the best shot to find the best overall product or the Baratza Encore Conical Burr Coffee Grinder may provide good services for the value as well.
But as we are talking about the best budget coffee grinders, we would like to go back to the previous parts where we mentioned the DR MILLS DM-7451 Electric Dried Spice and Coffee Grinder, Sboly Conical Burr Coffee Grinder, Cuisinart DBM-8 Supreme Grinder & the Sboly Coffee Machine Grind and Brew as the go-to choices for best budget coffee grinder.
FAQ
Q – Is a coffee grinder worth it?
A – Yes, they are worth the time & the money.
Q – Are Burr grinders really good?
A – Yes, they are better than the blade grinders.
Conclusion
Well, we have discussed a lot today. After such a long read, it's probably time to have a coffee to clear up your mind. So, if you are a coffee lover or you have to have coffee to let your regular days go by without any stress, it's time to buy best budget coffee grinder to have the best taste of coffee every time you drink it.
Happy coffee drinking with Cuisine Stuff!