Saucepan – cookware that is probably familiar to every people out there who have stepped into their kitchen for at least one time in their life. So, are you looking for the right saucepans! If yes, saucepans are that a common and widely used product. And, why not! They offer a great range of cooking for you.
Saucepans don't need an introduction as we mentioned before, they are widely popular all over the world. But just in case, someone is not familiar, a saucepan is a cookware that is usually used on different stovetops & can heat your foods & make soups, stews, sauces & puddings with ease. They usually excel at making foods that are mostly liquid. Saucepans are daily used more products for most people.
So, buying a saucepan might be a bit tricky than usual. As you'll need them every day, you'll need them to be durable of course, as well as efficient at cooking different things. Considering your troubles, we, from Cuisine Stuff are here again to help you recognize what to look for in a saucepan, give you a look at the saucepans there & finally help you choose the best saucepan for you matching your needs. So, stay along with us on a journey to the inside world of the saucepans.
Which one's better – Nonstick or Stainless Steel saucepans?
Nonstick coating saucepans usually have an extra coating on the cooking surface usually made of Teflon nowadays – to ensure that foods don't stick on the cooking surface after cooking. Thus, it makes the saucepan easy to clean, and also it takes less oil, if you're concerned about your health, these saucepans give you an advantage. But you need to be careful, not to expose your pan directly to very high temperatures; it may release potentially toxic substances then.
On the other hand, stainless steel saucepans are the masters of searing & browning meats or foods. They are more durable too as you don't have to worry about coatings coming off from these. But they have setbacks too, as burnt foods may leave stains that are too hard to wash off & often become permanent on these saucepans.

What makes a good saucepan
You have to consider quite a number of things before you can label a saucepan as a good one or a bad one. You'll always want the good ones for your kitchen. So, let's go through the elements you have to consider before determining which ones are the right to buy.
First, you can check what materials the saucepans are made of. But as we have previously mentioned there are no huge differences between either of these two. But, here's a suggestion-multi layer coating that may prove to be more durable. Also, look for what materials they are built with to get an idea about their durability & if they are toxic or toxicity free.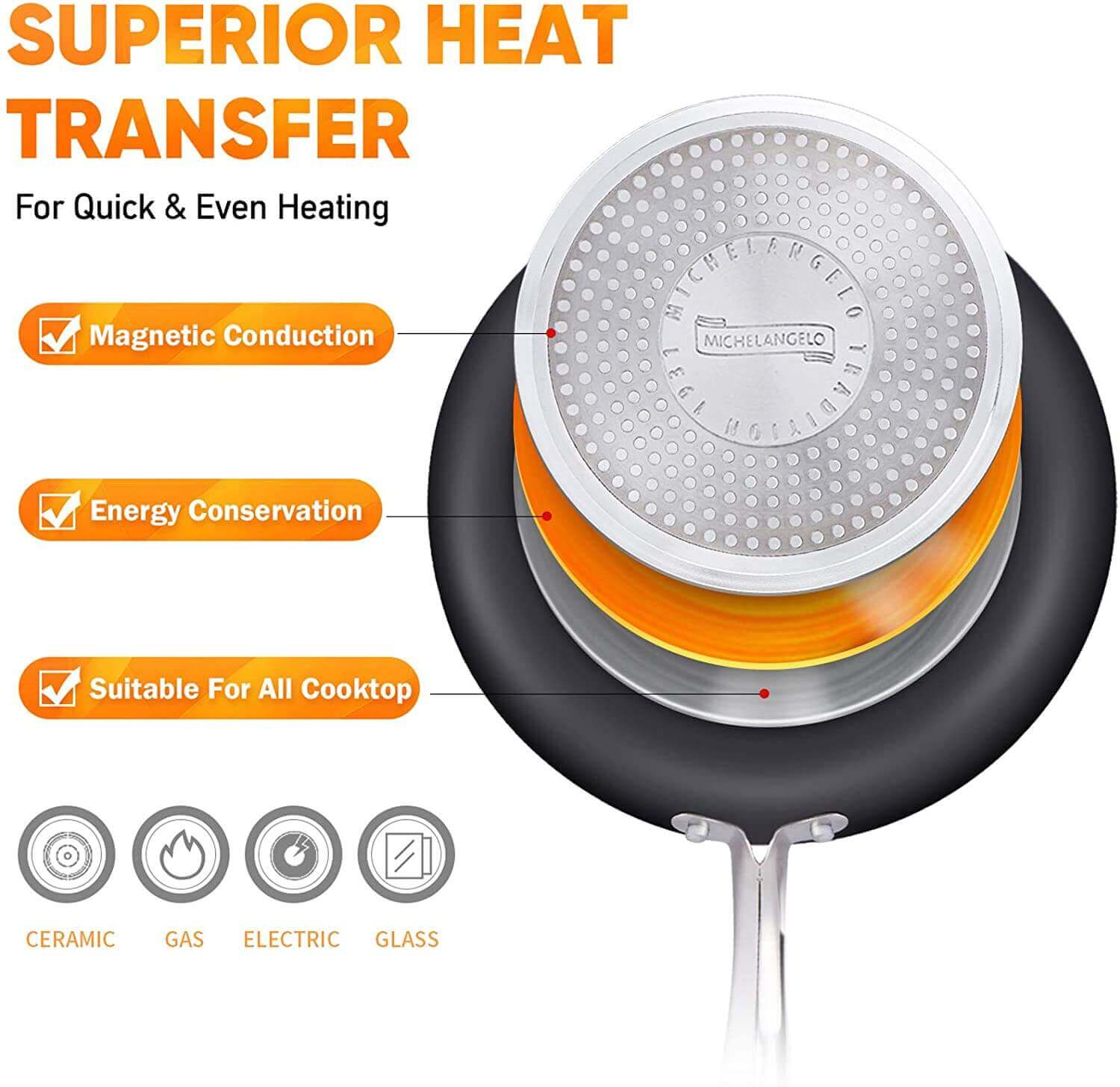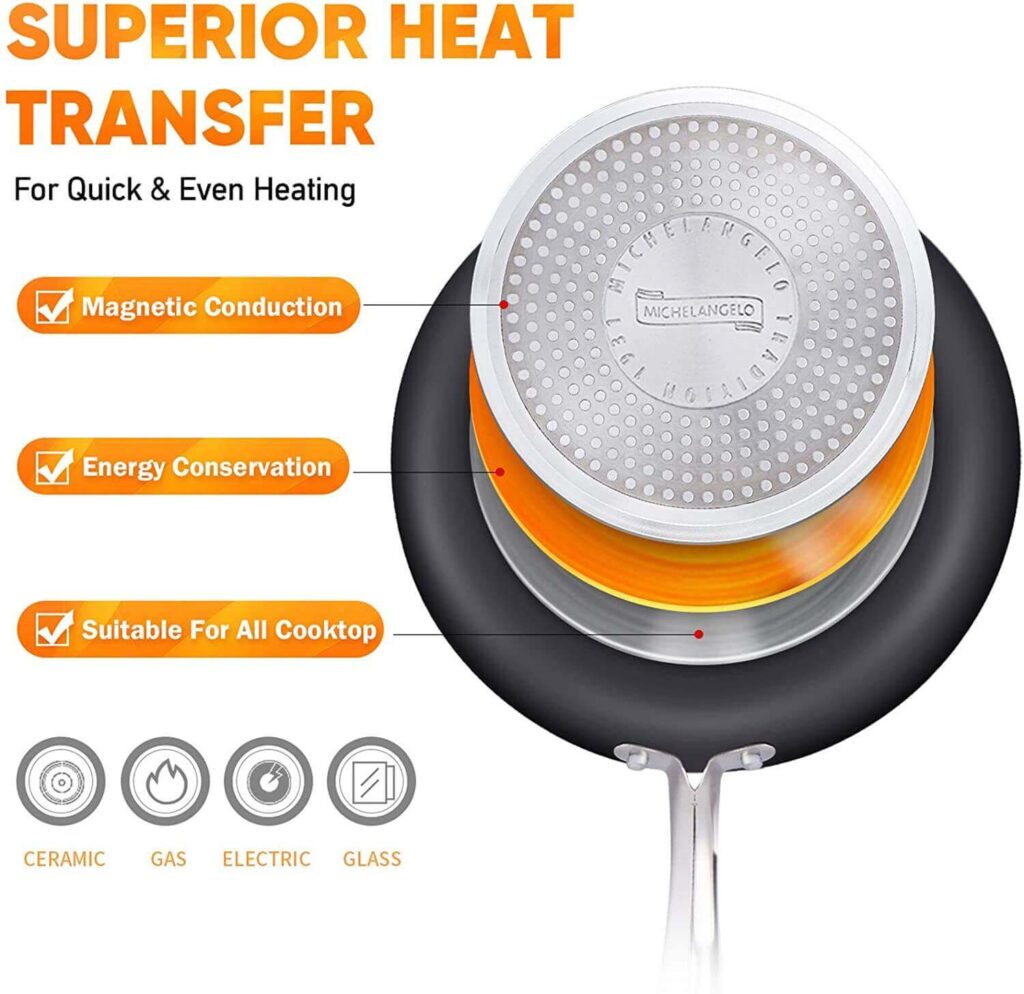 Check if the cooking surface can distribute the heat well or not. It is an important feature. If they can't distribute heat evenly, there burn or undercooking incidents may happen often & may also leave permanent spots.
Then, check if the handles are comfortable & if they stay cool under heat & if they offer lids to lock in moisture with the saucepan. You should also check if they are oven & dishwasher safe. Make sure before buying that your saucepan is compatible with all kinds of cookers, otherwise you might put it on the wrong kind and damage your product.
If there's a warranty available, that is a handy bonus as well. Also, look at the size and shape of the saucepan in accordance with your cooking needs & storage facilities. If it has all the good things available, you can assume that you have got your hands on the best saucepan in the market.
What? Checking all these things seem too hard & time consuming? Don't worry. For your convenience, we are now going to feature the 10 saucepans below. You can choose from them & order from your home or at least you can get the idea of what to look for in the shops if you want to buy it locally.
10 BEST NONSTICK SAUCEPANS SETS
Image
Product
Details
Price
Utopia Kitchen 2 Quart Saucepan
Coated with multi-layer nonstick, made with aluminum alloy.
Double coated, and scratch-resistant nonstick interior.
Dishwasher safe.
Check Price
All-Clad 4203 3- Quart Saucepan
Perfect for making sauces or heating liquids.
Secured with riveted stainless-steel handles.
Compatible with all cooktops including induction, Oven, Broiler (safe up to 600°F).
Check Price
Gotham Steel 2.5 Quart Saucepan
2.5 Quart multipurpose saucepan.
Ultra nonstick.
Effortless cleanup & dishwasher safe.
Check Price
Blue Diamond Granite Stone Classic Saucepan
4x more conductive than copper.
Oven and broiler safe up to 600°F.
Durable glass lid for easy food monitoring.
Check Price
Michelangelo 3 Quart Saucepan
Scratch resistant, multi layered nonstick coating.
Heats quickly and evenly.
Ergonomic handle & Lid design.
Check Price
Cuisinart 719-16 Chef's Classic Saucepan
Chef's Choice, mirror finish, classic look.
Cool Grip Handle.
Drip-Free Pouring, Flavor lock Lid.
Check Price
Le Creuset Enameled Cast Iron Saucepan
Versatile size is perfect for soups, casseroles, and one-pot meals.
Wide base is great for browning meats.
Shock-resistant exterior, Sand-colored smooth finish interior enamel.
Check Price
Tramontina Enameled Saucepan
Enameled cast iron is extremely durable.
Superior heat retention and distribution.
Stainless steel knob is extremely durable and oven-safe.
Check Price
Duxtop Whole-Clad Tri-Ply Saucepan
This pan is suitable for induction, gas, electric, and halogen cooktops.
Stainless steel Lid.
Classic straight-sided and drip-free pouring design.

Check Price
Anolon Advanced Hard Anodized Saucepan
Durable.
Heavy-duty, hard-anodized construction.
Convenient pan spouts make it easy to strain or pour.
Check Price
This is one professional grade saucepan available from Utopia Kitchen. It comes with a tempered glass lid. Its body is made with top class 3003 aluminum alloy coating with scratch-resistant. Its heat-resistant Bakelite handle also provides a comfortable grip with easy to clean features.
It is dishwasher safe. But if you want to hand-clean it, use paper towels or spatula, then sponge with dish-washing soap to wash it completely. It also provides a great cooking experience satisfying your cooking needs.
All Clad saucepan presents a unique combination of stainless steel and aluminum core. The aluminum portion allows heat up quickly, durable, and easy to clean feature. The pan features straight sides to reduce evaporation and offers a lid to hold the moisture inside.
Its quality builds using the finest materials & allows you to simmer, warm & braise your foods with ease. This native US product offers you a lifetime warranty. It is dishwasher safe, convenient to use & requires low maintenance. You also can use this saucepan for making caramel cause and boiling eggs. This product makes kitchen tasks much easier and it is a high quality product.
This saucepan brings a touch of elegance as well as versatility in use at the same time. This product is a part of Gotham Steel's Hammered collection that will bring a lavish new look in your kitchen.
It is also lightweight & scratch-resistant along with a super durable feature. Its aluminum core ensures quick and even heat distribution. The product is dishwasher safe & it comes with a handy 10-year warranty.
This is one of the cheapest products which is available in the market at this moment. But it packs quite a pack of handy features. Its coating derives from minerals which are then reinforced by diamonds making sure that it is completely free of all toxic substances. There are three layers of coating ensuring the durability of this product.
The aluminum core composition in the cooking surface offers even heat distribution without any dead areas or hot spots. It has stainless steel professional handles with stay cool feature & ergonomic design that gives you safety and comfort both at the same time. It is dishwasher safe, easy to clean & comes with a 10-year warranty.
This is another great product that comes at a relatively low price. It boasts of a cooking surface made with a combination of ceramic & Titanium along with a multiple layer coating for easy & smooth cooking over a long period of time. The surface is scratch resistant and free of toxic substances.
The professional grade aluminum core alloy used inside ensures even heating across the surface. The ergonomically designed tempered glass lid & stainless steel handles give you safety and comfort at the same time. It is compatible with all types of stovetop cookers.
This product from the renowned brand Cuisinart comes with a great combination of stunning looks and multi-functional ability. Its stainless steel body brings a mirror finish to enhance its gorgeousness & delivers a great performance as well. The encapsulated aluminum core base gives unrivaled even heat distribution along with quick heating.
The stainless steel cooking surface does not discolor over frequent washes, does not react with foods or alter their flavor, giving you professional performance all around. It has a stay-cool stainless steel handle along with a fitting lid that locks in flavor & moisture. Its rim is tapered to allow drip-free pouring. It is dishwasher safe. So, overall, it is one of the best products around the market.
This is another gorgeous looking saucepan featuring in our article that will instantly bring a touch of glamour in your kitchen. But only looks is not enough to recommend, that's why it packs quite some handy features too. Its smooth enamel coating on the outside gives it a soothing look without the fear of chipping or cracking while the enamel coating on the inside resists staining & dullness with both outside & inside coatings guarantee their lasting long.
Its oversized handle provides even weight distribution and a comfortable grip at the same time. While its high price seems like a bit too much but its excellent build quality ensures its extra durability making it worth every cent.
This product features among the mid-budget products in the market. Its enameled solid material offers superior and even heat retention but the vibrant graded porcelain-enamel gives a gorgeous look to the extruded exterior. The enameled attribute also offers durability.
The self-basting condensation ridges on lid uniformly collect steam on the food and make the moistest and flavorful food. This saucepan is compatible with all kinds of stovetop cookers and also oven safe up to 450F. Tramontina also offers a handy lifetime warranty with this product.
As the name suggests, this product comes with whole-clad tri-ply material on the surface. The stainless steel pot features a straight-sided and drip-free pouring design to give you easy cooking comfort. Stay cool stainless steel perfect grip handle, allows you comfortable handling even during cooking at high temperature.
The stainless-steel lid with a loop handle helps retain heat and moisture & gives you extra flavor every time you cook. This saucepan is dishwasher safe & freezer safe as well for food storage. There is a limited lifetime warranty available with the product now. If you thought about budget and design it could be the greatest choice among others.
This is the last product we are going to feature in our article today. Its heavy-duty, hard-anodized construction provides superior durability along with a quick heating feature. Its premium nonstick coating ensures quick release & easy cleanup.
It has a dual riveted handle that provides a comfortable grip along with a break resistant domed glass that offers an extra rim with optional straining holes for easy straining or pouring.
How much does a good saucepan cost
You'll find products suiting you all kinds of the budget in the market. Like the others, the good saucepans' market also has different budget suiting products consisting of a wide range of prices according to your needs and builds. Some may provide you with very good value for the price, while others may not give the same results or value as you would like. So, you can see that the right saucepans we featured in our article are available at a wide range of prices.
Best Saucepans Within Budget
As we have said earlier, there is a wide range of price form where you can choose your saucepan. As most of the people want, we know you would probably want the most value for the price with the price being as low as possible.
Although the cheapest one featured in our article is the Utopia Kitchen 2 Quart Saucepan, we would recommend the All-Clad 4203 3- Quart Sauce Pan & Cuisinart 719-16 Chef's Classic Stainless Saucepan within budget considering their overall features. But if you are willing to spend a good amount of money on the saucepan, then the Le Creuset Enameled Cast Iron Signature Saucepan is the best saucepan option available.
Which Brand of Saucepans is The Best
We have mentioned in previous articles as well-it's tough to choose one brand & label it as the best out there because there are so many good saucepans out there from various brands. But sill we are going to name some of the best saucepans we have featured in different categories so you can choose in accordance with your needs.
The All-Clad 4203 3- Quart Sauce Pan & the Cuisinart 719-16 Chef's Classic Stainless Saucepan are the best budget saucepans of the market we featured in our article.
The MICHELANGELO 3 Quart Saucepan is the best saucepan of the market featured in our article.
The Anolon Advanced Hard Anodized Saucepan & the Le Creuset Enameled Cast Iron Signature Saucepan are the healthiest saucepans we have featured.
And lastly, The Le Creuset Enameled Cast Iron Signature Saucepan can be deemed as the best overall saucepan as well.

FAQ
Q- Are saucepans oven safe?
A- It depends on individual products usually. Most of the saucepans are oven safe though.
Q- What are saucepans used for?
A- They are mostly used for cooking liquid foods like stew, soup etc.
Q- Should I buy a nonstick or stainless steel saucepan?
A- As saucepans mostly deal with cooking liquid foods, there is not much difference between them. The one providing better features should be your go to product.
Conclusion
The saucepan is one of the kitchen appliances that is used for everyday cooking. Well, you must be tired after all this reading. Now if you want some soups to refresh yourself, you know what to do. Go on & buy the best saucepans. Happy cooking with Cuisine Stuff.